Description is below picture. Click for larger image.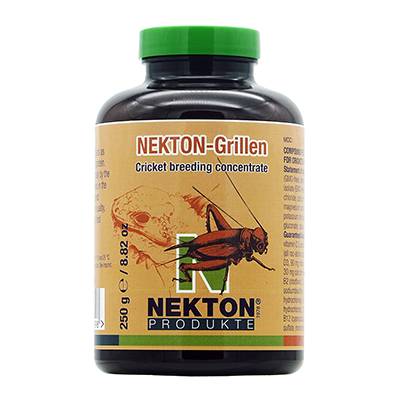 Concentrated compound for breeding feeder crickets.
NEKTON-Grillen-Concentrate is a comprehensive blend that contains all the essential proteins from both animal and plant sources, as well as a rich variety of vitamins and minerals, including major and trace elements. With this concentrated feed, there is no need for any additional supplements! To provide water for the crickets, we recommend using cucumber slices instead of a water source. They serve the same purpose and are much easier to manage, reducing the risk of young crickets drowning.
NEKTON-Grillen is specifically formulated to meet the unique nutritional requirements of crickets, which consume both plant and animal matter. By feeding them this rich and valuable mixture, you can raise healthy, high-quality, and larger crickets that serve as an optimal source of nutrition for reptiles and birds. The powdered form of the concentrate ensures that the crickets readily consume it during breeding. Crickets, like waxworms, make excellent live feed for various reptile and bird species. They can be used as feed for many animals right from their early days, depending on their size. The advantage of using NEKTON-Grillen is that it provides high-quality protein without excessive amounts of chitin.
One particular benefit of NEKTON-Grillen-Conentrate is its ability to reduce the high failure rate during the young crickets' initial molting process. Additionally, it is easily ingested by the young crickets right from the first day, ensuring their nutritional needs are met.
How to feed:
Add a small amount of NEKTON-Grillen-Concentrate to your crickets' enclosure. Replace daily, as the enclosure is cleaned. We recommend using cucumber slices instead of drinking water. They serve the same purpose and are much easier to use. This therefore decreases the number of young crickets drowning.
Storage:
NEKTON-Grillen-Concentrate should be stored dry and out of sunlight, between 15° and 25° C (59° and 77° F). DO NOT STORE IN THE FRIDGE !!!

Composition:
Dextrose, fine biscuit, bee pollen, soy protein isolate (GMO-free), soy (GMO-free), sodium chloride, potassium dihydrogen phosphate, calcium gluconate, dicalcium phosphate, potassium chloride, calcium glycerophosphate, magnesium carbonate, calcium carbonate, safflower oil.

Technological additive:
Sorbic acid, silicic acid.

Nutritional additives per kg:
150 mg vitamin C (L-ascorbic acid), 60 mg vitamin E (all rac-alpha-tocopherylacetate), 90 I.U. vitamin D3, 90 mg niacinamide, 60,000 I.U. vitamin A, 30 mg calcium-d-pantothenate, 15 mg vitamin B2 (riboflavin), 12 mg vitamin K3 (menadione-sodiumbisulfite), 6 mg vitamin B1 (thiamine mononitrate), 6 mg vitamin B6 (pyridoxine hydrochloride), 2 mg folic acid, 18 µg vitamin B12 (cyanocobalamine), 1.7 mg iron (ferrous(II)-sulfate, monohydrate), 0.2 mg zinc (zinc sulfate, monohydrate), 0.4 mg copper (cupric(II)-sulfate, pentahydrate), 0.3 mg manganese (manganese(II)-sulfate, monohydrate).

Available in a 250g (8.8oz) size.



Manufacturer: Nekton
See all products from Nekton
Visit Manufacturer's website: www.nekton.net
Nekton-Grillen Concentrate for breeding crickets 250g
EAN: 0733309266098