Description is below picture. Click for larger image.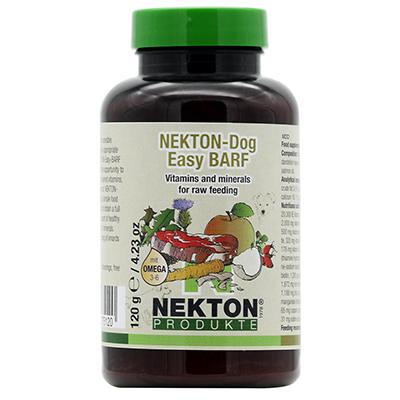 NEKTON-Dog Easy BARF: The Perfect Complement for Raw Feeding.
NEKTON-Dog Easy BARF is the ideal addition to biologically appropriate raw feeding (BARF) for your dog. Even if you're new to raw feeding, this product provides an easy way to ensure your dog receives all the necessary vitamins, minerals, and trace elements.
NEKTON-Dog Easy BARF enhances a simple raw meat and oil diet to create a balanced meal. It contains a rich blend of healthy herbs, natural vitamins, and minerals. Plus, you don't need to worry about adding innards or bones separately.
Our product is completely free from added sugar, flavorings, gluten, and lactose, making it a wholesome choice for your dog's dietary needs.
Since raw feeding includes various types of meat, innards, and vegetables, it can be challenging to ensure a consistent and adequate supply of vitamins and minerals. Frozen meat and vegetables may also have reduced nutrient levels, making it difficult to meet your dog's specific nutritional needs without additional vitamin-rich supplementation.
NEKTON-Dog Easy BARF provides a solution for creating balanced and species- appropriate meals, even if you're new to raw feeding.. It guarantees a constant and measurable intake of essential vitamins, minerals, and trace elements, preventing unnoticed deficiencies or excessive amounts.
By incorporating a mineral product with a high amount of easily absorbable calcium, NEKTON-Dog Easy BARF can help prevent issues like white feces or constipation that may occur when feeding bones. It fulfills the dog's daily calcium requirements.
Moreover, NEKTON-Dog Easy BARF is enriched with a variety of herbs, carrots, and rose hips, which were part of the natural diet of dogs' ancestors. These plants were consumed either indirectly through prey or independently during periods of malnutrition and are highly beneficial for the dog's overall health. For example, dandelion aids digestion with its prebiotic properties, while nettles have a positive impact on the urinary tract and provide relief from rheumatic complaints. The high content of flavonoids, essential oils, and vitamin C in nettles also boosts the dog's immune system. Additionally, rose hips and carrots are excellent sources of vitamin C and provitamin A.
NEKTON-Dog Easy BARF includes linseed as a source of fiber and important omega-3 fatty acids, such as a-linolenic acid. High-quality salmon oil is also used to provide other essential omega-3 fatty acids like eicosatetraenoic acid and docosahexaenoic acid, which are anti-inflammatory and support healthy cell metabolism. Brewer's yeast contributes minerals and vitamin B, promoting a beautiful coat and healthy skin.
All the components in NEKTON-Dog Easy BARF are highly bio-available, ensuring efficient absorption of nutrients in the digestive system.
How to feed:
Mix 1 teaspoon per 10Kg (22Lb) of body weight into the food daily. Maximum 6 teaspoons per day.
Storage:
NEKTON-Dog Easy BARF should be stored dry and out of sunlight, between 15° and 25° C (59° and 77° F). DO NOT STORE IN THE FRIDGE !!!
Composition:
Minerals, linseed, rose hips, carrots, dandelion leaves, nettle leaves, yeast, apple pomace, salmon oil.
Analytical constituents:
Crude protein 1.8 %, crude fat 3.6 %, crude ash 28.1 %, crude fibre 4.6 %, calcium 16.1 %, phosphorus 0.1 %, sodium 7.0 %

Available in 2 sizes: 120g (4.23oz) and 350g (12.35oz).



Manufacturer: Nekton
See all products from Nekton
Visit Manufacturer's website: www.nekton.net
Nekton-Dog Easy BARF Raw Food Supplement 120gm (4.23oz)
EAN: 0733309275120