Description is below picture. Click for larger image.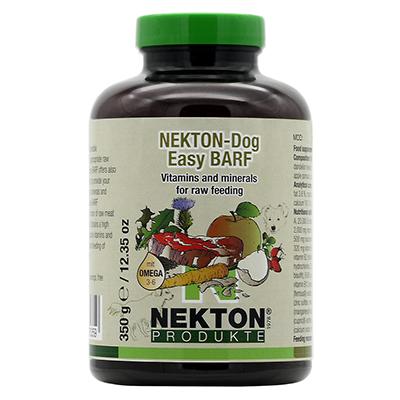 NEKTON-Easy-BARF is the sensible complement for biologically appropriate raw feeding (BARF). NEKTON-Easy-BARF offers also for beginners the opportunity to provide your dog all the required vitamins, minerals and trace elements. NEKTON-Easy-BARF complements a simple food ration of raw meat and oil to obtain a full meal. Contains a high amount of healthy herbs, natural vitamins and minerals. There is no additional feeding of innards or bones necessary. Without added sugar and flavorings, free from gluten and lactose.
Cook for your dog
Takes the guesswork out of adding supplements to your dog's home cooked meals
Use when organs and or bones are NOT part of your raw feeding regime
No added sugars or flavorings
Composition
minerals, derivatives of vegetable origin, linseed, rose hips, carrots, dandelion leaves, nettle leaves, yeast, salmon oil.
Analytical Components
Crude protein 1.8 %, crude fat 3.6 %, crude ash 28.1 %, crude fi ber 4.6 %, calcium 16.1 %, phosphor 0.1 %, sodium 7.0 %.
Nutritional additives per Kilogram:
160 000 IE vitamin A, 20,000 IE vitamin D3, 12,000 mg choline chloride, 2 000 mg vitamin E, 500 mg niacinamide, 500 mg calcium-D- pantothenate, 320 mg vitamin B6 (pyridoxine hydrochloride), 176 mg vitamin B2 (ribofl avin), 80 mg vitamin B1, 32 mg vitamin K3, 9,600 µg folic acid, 4 000 µg biotin, 1,200 µg vitamin B12, 1 872 mg iron (iron-(II)-sulfate, monohydrate), 1,200 mg zinc (zinksulfate, monohydrate), 144 mg manganese (manganese-(II)-sulfate, monohydrate), 65 mg copper (copper-(II)-sulfate, pentahydrate), 31 mg iodine (calciumiodate, anhydrous).
Net Weight: 350g

Manufacturer: Nekton
See all products from Nekton
Visit Manufacturer's website: www.nekton.net
Nekton-Dog Easy BARF Raw Food Supplement 350gm (12.35oz)
EAN: 0733309275359