Description is below picture. Click for larger image.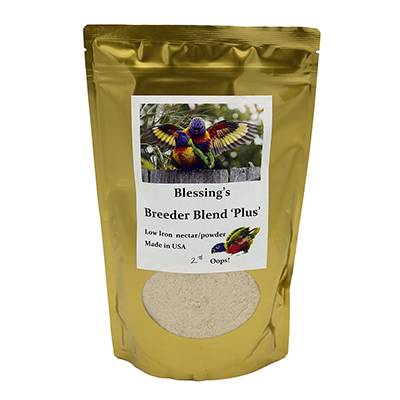 Formulated with the idea that Lorikeets in breeding programs should be fed a diet distinguishable from pet and non-breeding birds, Blessing's new Breeder Blend formula is based on the latest research and feedback from breeders. It can be fed to all baby, adult, and reproducing: lories, lorikeets, hanging parrots, fig parrots, all soft bills, and other nectar eating birds.
This diet has a higher protein content than Blessing's Gourmet diets and can be fed either as a nectar (1-5 ratio) or dry as a powder. Because of the different composition, it has a distinct taste that your bird will learn to prefer over time. Blessing's recommends mixing Breeder Blend with your bird's current food upon introduction (about 50/50) and then transitioning to Breeder Blend exclusively over the subsequent weeks.
Ingredients:
Brown Rice, Whole Wheat, Sucrose Sugar, Blueberries, Apple Dices, Green Papaya Extract, Soy Protein Isolate, Bee pollen, Bell Pepper, Coconut, Xanthan Gum, Calcum Citrate, Nutritional Yeast, Apple Fiber Powder, Bentonite Clay, Dandelion, Eucalyptus, Papaya leaf, Spearmint, Spirulina, Tumeric. Our Team designed a Proprietary Blend of Necessary Vitamins, Trace Minerals and Essential Amino Acids for Color and maximum reproduction.
Mid West Lab Analysis* for Blessing's 'Breeder Blend Plus' #2016 Per One Cup Serving: Calories 380, Crude Protein– 15%, Crude Fat – 5%, Carbs – 32.47%, Ash – 1.08%, Vitamin A – 3,480 IU/kg, Iron 49.2 ppm, Calcium 1.22%c Omega 3 0.49%, Omega 6 2.30%, Beta-carotene ppm 7.2, Vitamin K ppm 2.9, Vitamin E IU/kg 119, Vitamin D3 IU/kg 1789.3
Net Weight: 2 lbs

Manufacturer: Blessing's
See all products from Blessing's
Visit Manufacturer's website: www.loryfood.com
Blessing's Breeder Blend Lory Dry Lorikeet Food 2lb
UPC: 053176807874