Description is below picture. MouseOver for larger image.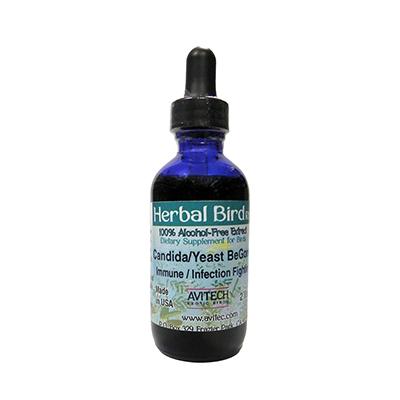 The Avitech Bird Rx Candida Yeast BeGone is an easy to use holistic tincture that works wonders by helping to suppress Candida while simultaneously boosting your bird's immune system. Your bird's overall vitality and well-being benefits directly from the use of Echinacea Angustiflora, which helps to energize your bird's immune system while eliminating yeast or candida infections. This formula is also formulated for use with infected adults adults who routinely produce infected offspring, and can also treat handfed babies.
INGREDIENTS:
Pau D'Arco bark, Echinacea Angustiflora, Usnea lichen, Reishi mushroom, and Thyme leaf in a kosher certified vegetable glycerin/purified water base. Not for long term use.
Net Weight: 2 fl oz

Manufacturer: Avitech Exotic Birds
See all products from Avitech Exotic Birds
Visit Manufacturer's website: www.avitec.com
Avitech Bird Rx Candida Yeast BeGone 2oz
UPC: 814023010928
Condition:New