Description is below picture. MouseOver for larger image.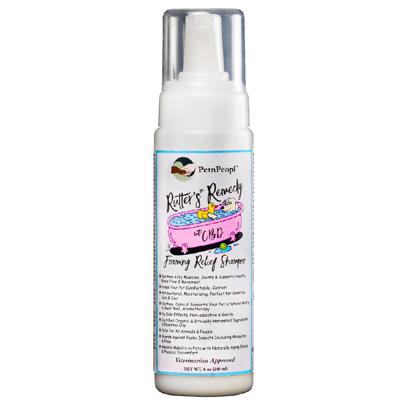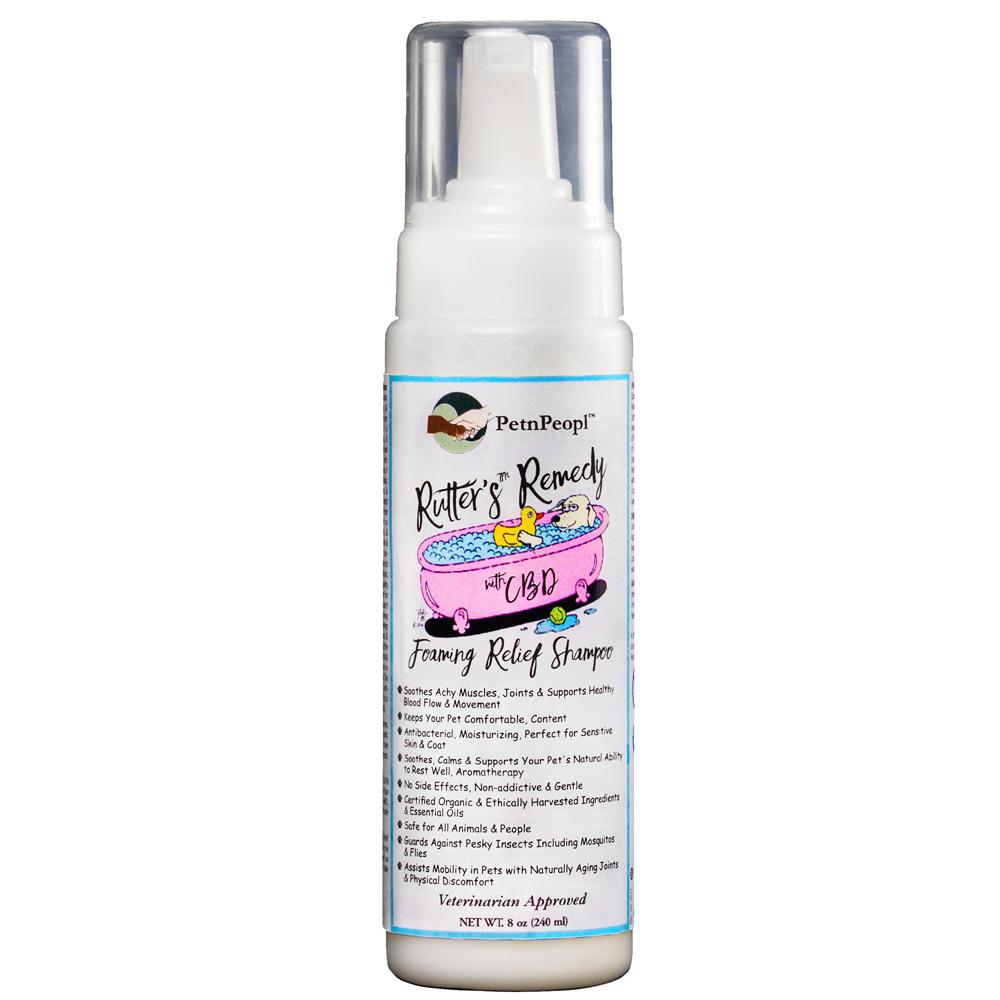 Rutter's Remedy CBD Foaming Relief Shampoo comes in an easy to use convenient foaming pump dispenser - 8oz of healing shampoo in a recyclable container.
Infused with enriched Cannabidiol (CBD) and natural and organic ingredients and essential oils, No chemicals. Ever!
Soothes achy muscles, joints and supports healthy blood flow and movement.
Assists mobility in pets with naturally aging joints and physical discomfort.
Keeps your pet comfortable & content.
Produces soothing therapeutic relief from swelling, and other adverse musculoskeletal condition's associated with daily activities.
Guards against pesky insects including mosquitos & flies.
Antibacterial, moisturizing, perfect for sensitive skin & coat.
Rutter's™ Remedy CBD Foaming Relief Shampoo is absorbed through the skin and interacts with cannabinoid receptors in the body and tissues of the animal, to produce therapeutic relief and anti-inflammatory effects without undesirable psychotropic side effects.
Soothes, calms & supports your pet's natural ability to rest well, aromatherapy.
No side effects, non-addictive & gentle.
Safe for all animals & people.
Protective, moisturizing and hydrating.
Safe for everyday bathing and grooming.
Certified organic & ethically harvested ingredients & essential oils.
The Story Behind the name
Rutter was a six-week-old yellow Labrador Retriever puppy rescued from a pet store in Sacramento. The pet store was under investigation by the DAs office and animal control for animal cruelty. Dr. Jyl was working with the DAs office to make sure the animals in the pet store were healthy, safe and given the proper medical care. Eventually the pet store was shut down and the owners were arrested for animal cruelty. Rutter was one of the puppies who had been abused. He was unable to walk and it appeared he had suffered trauma on his hips, back and legs. He was named Rutter because the only part of his body working normally was his constantly wagging tail just like a boat rudder. But Rutter was a cuter name and it stuck.
All PetNPeopl™ products are:
Cruelty Free/Animal Friendly
All natural, organic and made with pure essential oils
Non greasy, non staining
NO GMOs, Propylene Glycol, Parabens, Phthalates, Phosphates, Sulfates, Petrochemicals, Synthetic or Semi Synthetic Fragrances, PEGs, or toxic or harsh chemicals, and free of petroleum or animal by products so the possibility of sensitivity reactions is greatly reduced
Safe for dogs, cats, all animals and people
Safe for everyday use, non-addictive and gentle
Safe and non-toxic. Avoid eye contact. External use only.
100% Biodegradable
Covered by Trupanion and Healthy Paws Insurance Companies
Veterinarian Developed and Approved by Dr. Jyl Rubin, DVM
Made in the USA


Manufacturer: Homeo Pet
See all products from Homeo Pet
Visit Manufacturer's website: www.homeopet.com
Rutter's Remedy CBD Pain Relief Foaming Dog Shampoo 8oz
UPC: 868298000221
Condition:New