Description is below picture. Click for larger image.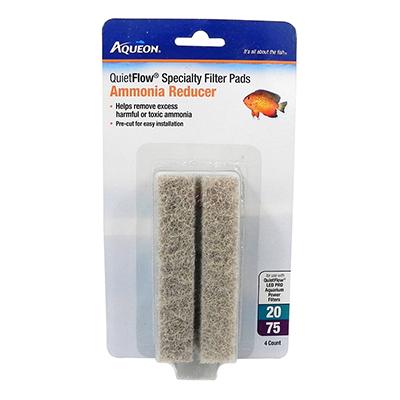 Aqueon Specialty Filter pads are a great way to add increased filtering capacity to any aquarium with a QuietFlow Filter. The pads are pre-cut to fit perfectly in your Aqueon QuietFlow Filter's Bio Media Grid. Each package comes with four filter pads, giving you up to 12 weeks of enhanced filtering. As water always takes the easiest path, Aqueon Specialty Filter pads are perfectly positioned to polish your aquarium water after the primary filtering has occurred.
Aqueon Specialty Ammonia Reducer Filter pads are designed to remove excess toxic ammonia. These pads are invaluable when ammonia levels rise due to overcrowding, sudden die-offs, and other unexpected circumstances.
Contains four pads
Pre-cut for the perfect fit
Specifically for the Aqueon QuietFlow 20-75 Filters, including the newer LED PRO models


Manufacturer: Aqueon
See all products from Aqueon
Visit Manufacturer's website: www.aqueonproducts.com
Aqueon Replacement Ammonia Pad for QuietFlow 20-75 Filters
UPC: 015905062794