Description is below picture. Click for larger image.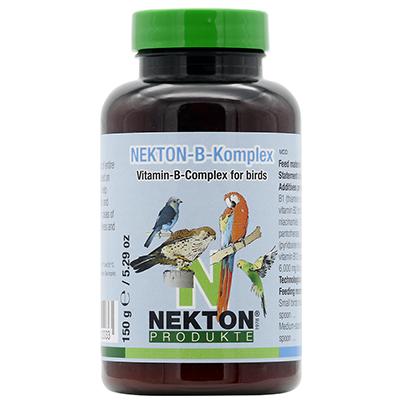 Vitamin-B-Komplex for all bird species.
NEKTON-B-Komplex is a supplement that helps to fix deficiencies, has a positive effect on nerve tissue, and improves the regulation of protein, fat, and carbohydrate metabolism.
When your bird lacks essential B vitamins, it can lead to various health issues. These may include problems with the nervous system (like bending back the head), increased irritability, difficulty with coordination, or muscle spasms. You might also notice abnormal changes in skin or growth disorders, which can be signs of a vitamin B deficiency.
Birds have a higher requirement for vitamin B, especially when they are stressed, sick, or being treated with antibiotics or sulfonamides.
NEKTON-B-Komplex is easy to use because it dissolves in cold water. You can simply add it to your bird's drinking water or soft food. It works well in combination with NEKTON-S.
NEKTON-B-Komplex is a high-quality and specific vitamin compound that contains numerous vitamins of the vitamin B Komplex. These substances, necessary for the body and maintaining health, are found partly in plant feed and partly in animal feed. However, they are often not present in sufficient amounts in compound feeds, so they need to be administered to birds as an additional supplement.
The vitamins contained in NEKTON-B-Komplex are of utmost importance for the birds' physiological processes and have diverse impacts. They play a key role in the overall metabolism, including the regulation of protein, fat, and carbohydrate metabolism. Furthermore, B vitamins are responsible for the normal function of the gastrointestinal tract, nerve and heart muscle tissue. They also contribute to blood and antibody production and play a significant role in maintaining healthy skin.
It should be noted that NEKTON-B-Komplex should only be used if necessary.
For healthy birds without any particular strain, it is recommended to provide the multi-vitamin compound NEKTON-S and NEKTON-MSA daily.
How to feed:
Using the included measuring spoon: Half a scoop (0.5 g) for small birds
One level scoop (1 g) for medium sized birds
One to two scoops (1-2 g) for large bird species, of NEKTON-B-Komplex daily, mixed in to drinking water or soft food.
Storage:
NEKTON-B-Komplex should be stored dry and out of sunlight, between 15° and 25° C (59° and 77° F). DO NOT STORE IN THE FRIDGE !!!

Composition:
Dextrose

Technological additive:
Silicic acid

Nutritional additives per kg:
1,500 mg vitamin B1 (thiamine mononitrate), 3,400 mg vitamin B2 (riboflavin), 30,000 mg niacinamide, 10,000 mg calcium-d-pantothenate, 3,400 mg vitamin B6 (pyridoxine hydrochloride), 8,400 µg vitamin B12 (cyanocobalamine), 6,000 mg folic acid.

Available in 2 sizes: 35g (1.23oz), 150g (5.29oz).



Manufacturer: Nekton
See all products from Nekton
Visit Manufacturer's website: www.nekton.net
Nekton-B-Komplex B Vitamin Bird Supplement 150g (5.29oz)
EAN: 0733309212033