Item 23302
Your Price today: $ 8.69
Currently out of stock. Call or e-mail for availability info, or else click here for a form to tell us how many you wanted to order.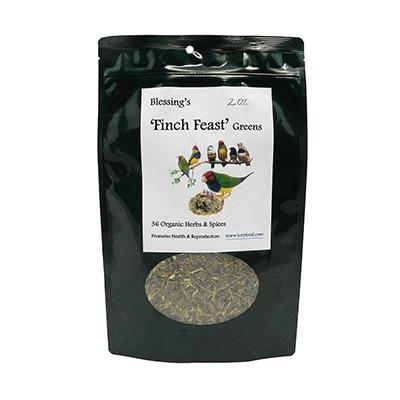 Blessings's 'Finch Feast' Greens- This new Finch Formula is made with 36 organic herbs and spices. This formula gives nourishing source of vitamins & minerals. It also increased fertility and breeding results, expels internal & external parasites, enhance beak and feather conditions, promotes hearty immune system, improves chicks' survival rate, relieves itching & scratching, Higher energy levels, stimulates appetite, and enhances color.
Blessing's Herbs & Spices are made from natural ingredients ground up. This is all organic with no preservatives or pesticides, made with only Human Grade ingredients.
You will want to serve in a shallow bowl next to your bird's favorite food.
Ingredients

Dandelion, Red Clover, Wheat Grass, Milk Thistle Seed, Garlic Flakes, Thyme Leaf, Parsley, Lavender Flowers, Marshmallow Root, Plantain Leaf, Chickweed, Olive Leaf, Kelp, Licorice Root, Basil Leaf, Oat Straw, Elder Berry, Spirulina, Bee Pollen, Alfalfa Leaf, Yarrow Flowers, Barberry Root, Echinacea Root, Valerian, Wormwood, Astragalus Root, Elder Flower, Marigolds, Chamomile, Flax and Hemp Seed, Rosemary Leaf, Cinnamon Chips, Papaya Enzyme, Lemon Grass, Rosebuds, Hibiscus Flower, Eucalyptus Leaf, Pau D'Arco Bark


Manufacturer: Blessing's
See all products from Blessing's
Visit Manufacturer's website: www.loryfood.com
Blessing's Finch Feast Greens Bird Food 2oz.
UPC: 053176809380