Description is below picture. Click for larger image.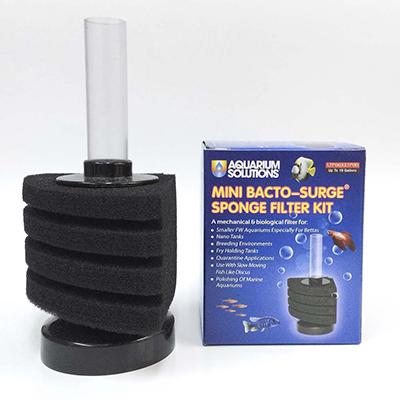 Aquarium Solutions Bacto-Surge Sponge Filter Kit is a mechanical and biological filter that is tried and true. Breeders have used these filters for decades in their rearing and breeder tanks with great success. Filter is about 3.5 x 2.5 4.5-inches.
Kit includes the filter base, air diffusion chamber, air/water mixing chamber, sponge block, sponge block lid, air inlet, air outlet, and extension pipe.
Use as a standalone bio filter by adding an air or water pump
Use as a pre-filter or water polisher when coupled with undergravel filters, power heads, canister filters, and top filters
Suitable for aquariums up to 10 Gallons
Pump sold separately


Manufacturer: Hikari
See all products from Hikari
Visit Manufacturer's website: www.hikariusa.com
Aquarium Solutions 10 Gallon Sponge Filter
UPC: 042055960380