Description is below picture. Click for larger image.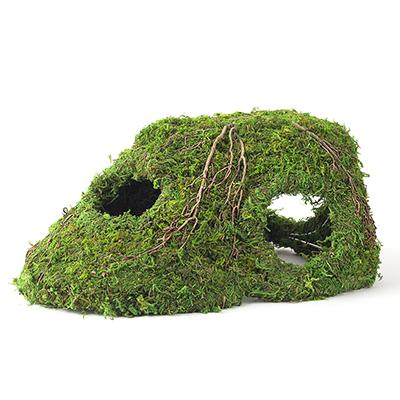 Galapagos Sapa Corner Hide for shelter, humidity, and refuge.
Provides a secure hiding place to relax for many species of frogs, snakes, geckos, and invertebrates.
Fits perfectly in the corner of any terrarium, while providing a natural basking area on top of the hide.
Increase humidity by misting with water to provide the ideal habitat for high humidity species or to aid in the shedding process.
Galapagos Sapa Corner Hide is perfect hide any tank. Multiple openings allow animals to enter and exit while providing security. Place the back of the hide against the sides of the tank to create a viewing window while not disturbing your pet. Ideal for all reptiles, amphibians, and invertebrates.

Corner Hide 10" x 5.5"

Manufacturer: Galapagos
See all products from Galapagos
Galapagos Mossy Corner Hide Terrarium Decoration
UPC: 759834053705