Description is below picture. Click for larger image.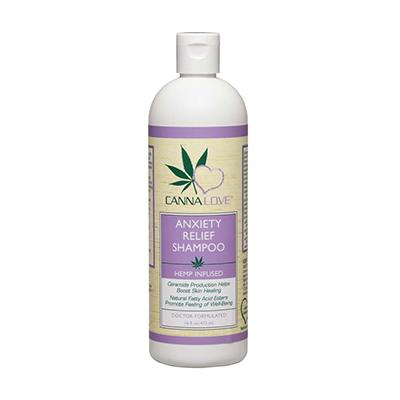 CannaLove's Anxiety Relief hemp infused shampoo is ideal for managing acute and chronic anxiety due to emotional and environmental stress. Aromatic fragrances of apple, eucalyptus, and pear leverage aromatherapy to help soothe your pet. In addition to phytonutrients from hemp, CannaLove Anxiety Relief dog shampoo contains lemon balm, ylang ylang, horsetail, hops, sage, rosemary, nettle, pear, apple, and eucalyptus.
Eucalyptus extract boosts skin healing ceramide production
Promotes well being with natural pheromone fatty acid esters
Soothes your dog skin, which in turn is one less point of irritation
Helps your pet feel safe and secure
CannaLove dog shampoos set themselves apart from other pet products because of their functional hemp extract, using two patented hemp technologies. These extracts deliver powerful antioxidants to help shield skin and coat from environmental damage. Strong enough to get your dog's skin and coat thoroughly clean, yet gentle enough for everyday use. Hemp phyto nutrients, including fatty acids, terpenes, and proteins feed hair follicles for a soft and radiant coat.
Naturally hypoallergenic
No salts, alcohols, sulfates, parabens, or oils
Formulated with natural vitamins A & E, iodine, and chlorophyll
pH balanced
100% biodegradable and cruelty free!
Great for all types of fur; gentle enough for everyday use if necessary


Manufacturer: CannaLove
See all products from CannaLove
Visit Manufacturer's website: www.pet-fx.com/
CannaLove Hemp Anxiety Relief Dog Shampoo 16oz
UPC: 853536004888