Description is below picture. Click for larger image.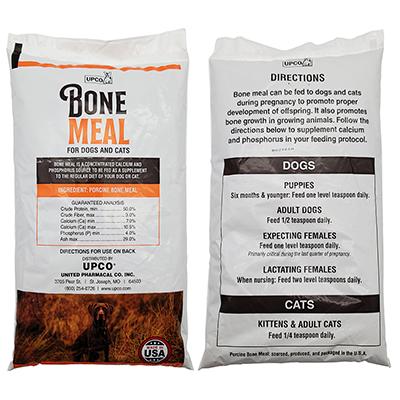 A nutritional concentrated Calcium and Phosphorus supplement to be added to the regular diet of dogs, puppies, pregnant/nursing bitches and cats.
Bone Meal is an excellent source of naturally balanced calcium and phosphorus.
Bone Meal is fed during pregnancy to promote proper development of offspring and proper bone growth in growing animals. The following amounts will supplement Calcium and Phosphorus to most feed programs:
Includes two one (1) pound packets.
Feeding amounts
Puppies up to 200 days
1 level tsp per head daily
Mature Dogs
1/2 tsp per head daily
Pregnant Females (last quarter)
1 tsp per day
Lactating Females
2 tsp per day
Cat
1/4 tsp per day
Kitten
1/4 tsp per day
Ingredients:
Porcine Bone Meal
Guaranteed Analysis
Crude Protein
(min) 50.0%
Crude Fiber
(max) 3.0%
Calcium (Ca)
(min) 8.0%
Calcium (Ca)
(max) 10.5%
Phosphorus (P)
(min) 4.0%
Ash
(max) 29.0%


Manufacturer: UPCo
See all products from UPCo
Visit Manufacturer's website: www.upco.com
UPCo Bone Meal For Dogs and Cats 1Lb. 2 Pack
UPC: 053176810263