Description is below picture. Click for larger image.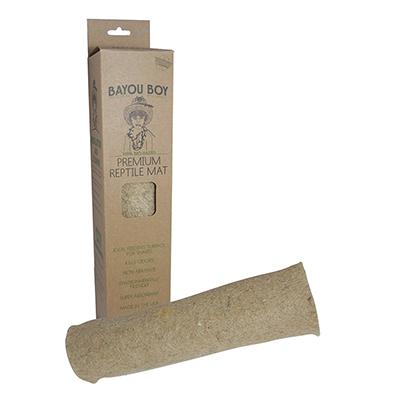 Bayou Boy is the terrarium mat/carpet you've been waiting for! Bayou Boy is a 100% Bio-Based product that is made from material grown and harvested in the Mississippi Delta - right here in the Good 'ol US of A! Bayou Boy Premium Reptile Mats are available in two popular sizes: 12 x 30-inch (30.5 x 76cm) and 15 x 48-inch (38 x 122cm). Bayou Boy can be trimmed, overlapped, and combined to whatever size you need!
Non-toxic and pathogen-free, Bayou Boy is heat treated to 450F° and has passed veterinary laboratory testing. Simply place on the bottom of your terrarium. Trim or combine multiple mats as needed. Place your tank decor over the Bayou Boy mat. DONE! Clean weekly as needed and discard (compost if you like - yeah!) after 6 to 8 weeks.
Bayou Boy is ideal for all lizards, snakes, turtles, tortoises, and arachnids including (but not limited too): Iguanas, Geckos, Skinks, Chameleons, Monitors, Boas, Pythons, Corn Snakes, Box Turtles, and Tarantulas.
Ideal feeding surface for snakes
Kills odor
Non-abrasive
Environmentally friendly - compostable
Super absorbent
Grown, harvested, and made in the USA


Manufacturer: KenGro Corporation
See all products from KenGro Corporation
Visit Manufacturer's website: www.kengropet.com/
Bayou Boy Terrarium Mat 12 x 30-inch (30.5 x 76cm)
UPC: 648502000014