Description is below picture. Click for larger image.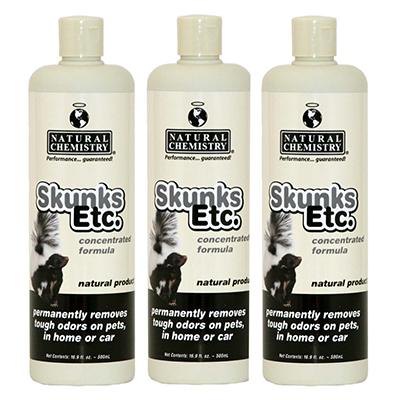 Three (3) 1 Liter Bottles.
Skunks Etc. is ideal for removing skunk odor from pets, carpet, upholstery, and clothing. It is also great for a whole lot more! Concentrated formula is like getting 3 bottles for the price of one. Using natural SMARTZyme™ technology, Skunks Etc. effectively removes skunk and other odors completely.
Concentrated - dilute up to 3:1
Use directly on pets' coat, bedding, carpet, upholstery, and other surfaces
Effectively removes cat urine odor as well
Removes candle wax from carpet
Ideal as a spot cleaner for really tough stains
Replaces carpet cleaning solution in carpet cleaners - unleash these natural enzymes on your carpet odor
Gardeners and farmers love it because of how easily it removes manure stains
Hunters love it because it removes human scent from their clothing


Manufacturer: Natural Chemistry Inc.
See all products from Natural Chemistry Inc.
Visit Manufacturer's website: naturalchemistrypet.com
Natural Chemistry Skunks Etc. Odor Remover 16.9oz (1L) 3pk
UPC: 053176810492