Item 25890
Your Price today: $ 33.99
Currently out of stock. Call or e-mail for availability info, or else click here for a form to tell us how many you wanted to order.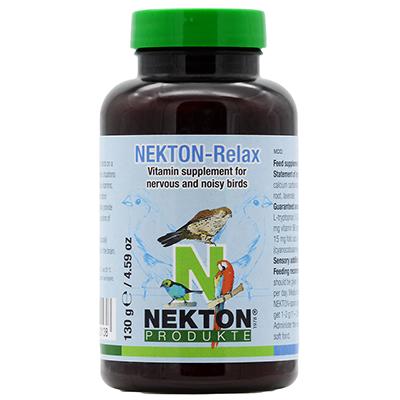 NEKTON-Relax helps birds relax and calm down with a natural blend of ingredients, including chamomile, hops, lavender, and Valerian root. It also contains B vitamins and L-tryptophan, which help produce serotonin in the brain and reduce nervousness, anxiety, and stress.
If your bird is showing signs of abnormal behavior, like excessive nervousness, it's important to first consult with a veterinarian to rule out any physical illness. Sometimes, a bird may be stressed due to their living environment, so it's important to identify what is causing their behavior and make adjustments accordingly. NEKTON-Relax can help support the bird's overall well being during stressful situations, but it may take up to two weeks to see the full effects. It's always best to consult with a veterinarian before administering any new treatments to your bird.
How to feed:
NEKTON-Relax is offered over a period of 4 to 12 weeks and shows its full effect after about 2 weeks.
For upcoming exhibitions or shows: start administering 2-3 weeks in advance.
For small birds: Half a scoop (0.5 g) of NEKTON-Relax daily.
For medium-sized birds: One level scoop (1 g) of NEKTON-Relax daily.
For large bird species: One to two scoops (1–2 g) of NEKTON-Relax daily.
Simply mix it into the soft food. It is recommended not to administer NEKTON-Relax with water, as the preparation contains natural components that are not water-soluble.
Storage:
NEKTON-Relax should be stored dry and out of sunlight, between 15° and 25° C (59° and 77° F). DO NOT STORE IN THE FRIDGE !!!


Composition:
Brewer's yeast, calcium carbonate, hops, chamomile, valerian root, lavender flowers

Nutritional additives per Kg:
49,000 mg L-tryptophan, 8,000 mg niacinamide, 2,000 mg vitamin B6 (pyridoxine hydrochloride), 24 mg folic acid, 400,000 µg vitamin B12 (cyanocobalamin)

Sensory additive:
Taurine 40,000 mg

Available in 3 sizes: 35g (1.23oz), 130g (4.6oz), 520g (18.34oz)



Manufacturer: Nekton
See all products from Nekton
Visit Manufacturer's website: www.nekton.net
Nekton-Relax for Nervous and Noisy Birds 130g (4.6oz)
UPC: 733309210138