Description is below picture. Click for larger image.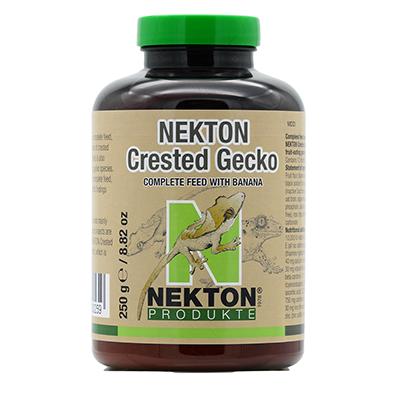 Ideal diet for Crested Geckos, with banana.
NEKTON Crested Gecko is a rich, balanced, and versatile diet for your animal and meets the needs of all essential nutrients such as carbohydrates, proteins, and minerals.
This food is also suitable for other fruit-eating geckos.
NEKTON Crested Gecko is suitable for other fruit-eating gecko species. In nature the crested gecko feeds mainly on various fruits, and numerous insects are also used in the terrarium. NEKTON Crested Gecko is a combination of both, which is optimal for a balanced diet.
In order to provide the body with all the essential nutrients, we have compiled NEKTON Crested Gecko from raw materials of various origins. By using high-protein insect meal from the black soldier fly larvae, NEKTON Crested Gecko is similar to the natural diet of geckos. The amino acid profile is improved by soy protein, which significantly increases the quality of NEKTON Crested Gecko.
High-quality natural products such as rose hips, linseed, and oat bran provide numerous plant nutrients and raw fibers, which are important for good digestion.
Brewer's yeast is one of the most valuable products of all because it is a combination of health-promoting nutrients. These include essential amino acids, B vitamins, various minerals, trace elements and enzymes.
NEKTON Crested Gecko contains various types of algae, which are ideal supplements for all animal species. Algae are rich in various nutrients, such as vitamins of the B group, iron, iodine, and fiber. All of which have a positive effect on the animal's entire body and strengthens their natural defenses.
Bee pollen comes directly from nature and contains numerous bioactive substances, as well as nutrients, and active ingredients, which help the organism in various ways. They support the animal's natural defenses and the numerous pollen enzymes help the body to better absorb the nutrients in the feed.
How to feed:
Mix 1 part of the powder with 2–3 parts of water (the amount refers to the volume). Within about 10 minutes, a smoothie-like porridge is created.

Geckos are greedy eaters and overfeeding can occur. Feeding does not have to be daily. It is sufficient to feed your pet two to three times a week. To be consumed within 3 months after opening.
Storage:
NEKTON Crested Gecko should be stored dry and out of sunlight, between 15° and 25° C (59° and 77° F). DO NOT STORE IN THE FRIDGE !!!

Composition:
Fruit flour (banana and apricot powder), insect meal (from black soldier fly larvae), bee pollen, dried brewer's yeast (inactive Saccharomyces cerevisiae), ground flaxseed, oat bran, algae meal (Ascophyllum nodosum), dicalcium phosphate, calcium carbonate, soy protein isolate (GMO-free), rose hips, lecithin, turmeric, spirulina, magnesium carbonate

Sensory additive:
Taurine 100 mg

Analytical constituents:
Ca 2.1 %, P 0.71 %, crude protein 20 %, crude fat 6 %, crude fiber 7 %

Nutritional additives per kg (2.2lbs):
10,000 IU vitamin A, 2,000 IU vitamin D3, 100 mg vitamin E (all rac-alpha- tocopheryl acetate), 18 mg vitamin B1 (thiamine mononitrate), 25 mg vitamin B2 (riboflavin), 40 mg calcium-d-pantothenate, 125 mg niacinamide, 30 mg vitamin B6 (pyridoxine hydrochloride), 90 mg beta carotene, 11.5 mg folic acid, 150 µg vitamin B12 (cyanocobalamin), 500 µg biotin, 700 mg vitamin C (L-ascorbic acid), 0.23 mg selenium (sodium selenite), 750 mg carnitine (L-carnitine), 500 mg choline chloride, 25 mg iron (ferrous(II)-sulfate, monohydrate), 25 mg zinc (zinc sulfate, monohydrate), 12.5 mg manganese (manganese(II)-sulfate, monohydrate), 7.2 mg copper (cupric(II)-sulfate, pentahydrate), 1 mg iodine (calcium iodate, free of water)

Available in 3 sizes: 100g (3.53oz), 250g (8.82oz), 700g (24.69oz).



Manufacturer: Nekton
See all products from Nekton
Visit Manufacturer's website: www.nekton.net
Nekton Crested Gecko for all Fruit-Eating Geckos 250g
UPC: 733309230259