Description is below picture. Click for larger image.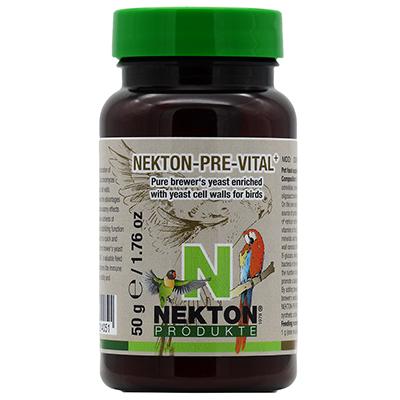 Pre/Probiotic supplement for birds made with pure brewer's yeast and yeast cell walls
NEKTON-PRE-VITAL+ is a supplement made of brewer's yeast (100% Saccharomyces cerevisiae) and yeast cell walls. The combination of these two ingredients provides important nutrients and has prebiotic and immunostimulating effects that can improve the bird's gut health, immunity, and overall performance.
The yeast cell walls help the bird absorb the nutrients from brewer's yeast faster and better, making NEKTON-PRE-VITAL+ a valuable supplement that can strengthen the immune system, increase vitality, and improve performance. This makes the bird more resistant to various kinds of illnesses.
Brewer's yeast is a high-quality source of protein and many other nutrients and active ingredients, which makes it a great addition to the bird's diet. NEKTON-PRE-VITAL+ is a natural product without any synthetic additives.
Brewer's yeast is really good for birds because it has lots of protein and other important nutrients like vitamins, amino acids, minerals, and trace elements. The cell wall of brewer's yeast has special substances called MOS and beta-glucans that can help balance the good and bad bacteria in a bird's gut. This makes it easier for the bird's body to absorb all the good stuff in the brewer's yeast. Brewer's yeast also has B vitamins that help with the nervous system, metabolism, skin, plumage, and immune system of the bird. There are about 16 different amino acids in brewer's yeast that are important for things like cell and muscle tissue. Brewer's yeast also has natural minerals like calcium and phosphorus, and trace elements like iron, copper, manganese, and zinc. The protein in brewer's yeast has a complete amino acid profile, which is really good for the bird's health.
How to feed:
Mix 1 g (0.035 oz or 1 measuring spoon inside) of NEKTON-PRE-VITAL+ with 100 g (3.53 oz) of soft food. Do not mix with water. NEKTON-PRE-VITAL+ can be given daily for a period of up to 12 weeks, or 2 to 3 times a week all year round.
Storage:
NEKTON-PRE-VITAL+ should be stored dry and out of sunlight, between 15° and 25°C (59° and 77° F). DO NOT STORE IN THE FRIDGE!!!

Composition:
Brewer's yeast (100% Saccharomyces cerevisiae, inactive), brewer's yeast cell walls (contains mannan-oligosaccharides and beta-glucans)

Available in 3 sizes: 50g (1.76oz), 220g (7.76oz), 430g (15.17oz)



Manufacturer: Nekton
See all products from Nekton
Visit Manufacturer's website: www.nekton.net
Nekton-Pre-Vital+ Prebiotic Bird Supplement 50g
UPC: 733309214051