Description is below picture. Click for larger image.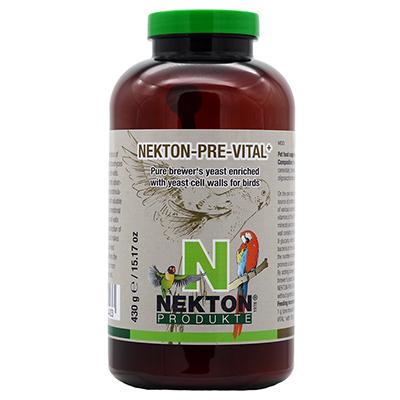 NEKTON-PRE-VITAL+ is a combination of pure brewer's yeast (100% Saccharomyces Cerevisiae, inactive) and yeast cell walls. NEKTON-PRE-VITAL+ combines the advantages of the prebiotic and immunostimulatory effects of yeast cell walls with the valuable nutrients of brewer's yeast.
The intestinal stabilizing effect of the yeast cell walls can lead to a quick and desirable absorption of nutrients from brewer's yeast and makes NEKTON-PRE-VITAL + a valuable feed supplement, which can strengthen the immune system, promote vitality, and improve performance of the bird.
The stimulated immune system makes the bird more resistant to pathogens of various kinds. On the one hand, brewer's yeast is a high quality source of protein, on the other hand a valuable supplier of various nutrients and active substances. Brewer's yeast contains:
Numerous B vitamins, which are essential for diverse life functions. Vitamins B group are partly responsible for the nervous system, metabolism, and have a positive effect on the bird's skin and plumage. Birds need valuable B vitamins for a strong immune system.
There are around 16 different amino acids in brewer's yeast, which are needed by birds, including for the cell and muscle tissue
Various natural minerals which are of great importance for bird health. Brewer's yeast is mainly rich in calcium and phosphorus
Trace elements, which have a vital function for the metabolism and are involved in numerous processes in the bird organism. Among other things, iron, copper, manganese and zinc
Proteins with a complete amino acid profile

The brewer's yeast cell wall consists of mannan-oligosaccharides (MOS) and ß-glucans, which can reduce the number of harmful bacteria in the intestines of birds and can increase the number of beneficial bacteria. This naturally can promote a balanced microflora in the bird's intestine.
NEKTON PRE VITAL+:

A valuable supplier of various nutrients and active substances which can have a positive effect on the whole bird´s body
Bolsters the bird's immune system
Can have prebiotic effects on the beneficial micro-flora of the intestine and can naturally promote a balanced intestinal flora
NEKTON-PRE-VITAL+ is a purely natural product without synthetic additives


Manufacturer: Nekton
See all products from Nekton
Visit Manufacturer's website: www.nekton.net
Nekton-Pre-Vital+ Prebiotic Bird Supplement 430g
UPC: 733309214433