Description is below picture. Click for larger image.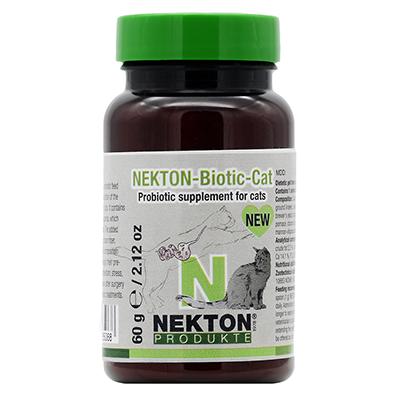 Pro-biotic supplement for cats
NEKTON-Biotic-Cat is pro-biotic food supplement, specially designed to stabilize cats' digestive systems.
Ideal for treating indigestion, use during stressful situations, use during the recovery period after illness, surgery, or treatment with antibiotics.
Cats suffer frequently from indigestion. The causes are varied and often not exactly known. Many digestive problems occur with illness, stress, or after antibiotic treatments. But also changes in feed or incorrect feeding (cold feed, high in sugar or fat) are often cited as causes. As a result of these factors, the balance of intestinal flora is affected. Specifically, the pH value and composition of the flora are changed, which cats can be sensitive to. However, a constant environment in the intestine is important for its function - the best possible utilization of food. A healthy gut is also important for the well-being of the cat.
NEKTON-Biotic-Cat helps to stabilize the intestinal flora and uses purely natural active ingredients. NEKTON-Biotic-Cat contains a particularly high number of Enterococcus faecium bacteria. This probiotic strain improves the consistency of the feces, regulates the pH value in the intestine, so that an optimal habitat is created for the entire range of health-promoting intestinal flora. On the other hand, pathogenic (disease-causing) germs (such as salmonella and clostridia) are suppressed. The added vegetable ingredients such as ground flaxseed, oat bran, psyllium husks, Jerusalem artichoke and apple pomace are rich in fiber and facilitate digestion in a gentle way and help to calm the intestines. They have a prebiotic effect and serve as an important source of food for beneficial intestinal bacteria. This encourages their growth. Furthermore, NEKTON-Biotic-Cat contains mannooligosaccharides, which have proven to be particularly useful for cats. In addition to the increase in important types of bacteria and the production of short-chain fatty acids, they also support the cat's immune system by preventing harmful germs from adhering to the intestines. In this way, pathogens no longer remain in the animal's body and are excreted. The coconut flour added has a high proportion of numerous minerals such as calcium, phosphorus, iron and zinc. It also provides healthy fatty acids.
NEKTON-Biotic-Cat contains brewer's yeast, which naturally provides the organism with numerous micronutrients such as B vitamins, minerals and trace elements, as well as proteins with a complete set of amino acids.
Furthermore, NEKTON-Biotic-Cat contains L-arginine and taurine, which are essential for cats. L-arginine is an essential amino acid and a component of the body's urea cycle. Both young and older cats have a high requirement for arginine. Taurine is also an essential amino sulfonic acid that must be obtained from the diet. Cats can only form the necessary bile acid with an adequate supply of taurine. NEKTON-Biotic-Cat works in harmony with NEKTON-Cat-VM, NEKTON-Cat-H, and NEKTON-Keep-Cool.
Feeding Recommendation
One heaped measuring spoon (included, 1 g) NEKTON-Biotic-Cat per 5 kg (11Lbs) body weight daily.

Administer over a period of 10-15 days or longer to resolve indigestion. It is recommended that a veterinarian's opinion be sought before use or before extending the period of use. NEKTONBiotic-Cat can be offered as a cure over a period of 6 to 8 weeks. Can also be given to support during breeding. Mix the recommended amount of NEKTON-Biotic-Cat under the feed. Dry food can previously be sprayed with water for a better adhesion of the powder.

Storage: NEKTON-Cat-VM should be stored dry and out of sunlight, between 15° and 25°C. DO NOT STORE IN THE FRIDGE!!! Keep away from children.

Contains 1 amino acid

Composition:
Calcium carbonate, puffed rice, ground linseed, Jerusalem artichoke, ground psyllium, brewer's yeast, carrot powder, oat bran, apple pomace, coconut flour, yeast cell walls (contains mannan-oligosaccharides with a prebiotic effect).

Analytical components:
Crude protein 27.5 %, crude fat 2.3 %, crude fiber 2.4 %, crude ash 38.1 %, Ca 14.1 %, P 0.23 %, Na 0.03 %

Nutritional additives per kg:
Taurine 200 mg

Technological additive:
Enterococcus faecium DSM 10663 NCIMB 10415 7 * 1011 CFU/kg



Manufacturer: Nekton
See all products from Nekton
Visit Manufacturer's website: www.nekton.net
Nekton Biotic-Cat Probiotic Supplement for Cats 60gm (2.1oz)
UPC: 733309285068