Description is below picture. Click for larger image.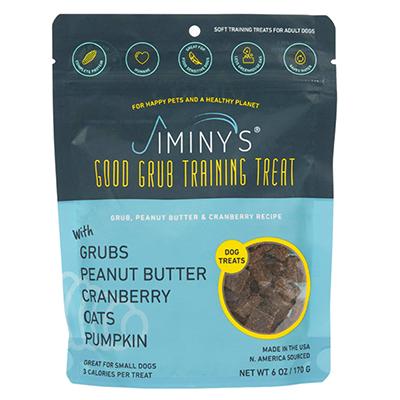 Small, chewy, and wholesome treats ideal for training
High quality ingredients: peanut butter, grubs, cranberry, oats, pumpkin
Grubs are one of the most sustainable proteins on the planet
Only 3 calories per treat
Easily breaks into smaller pieces for training
These high protein treats are low-calorie and full of flavor!
Corn, wheat, soy, and filler-free. Made in the USA!
Jimminy's cricket-based foods and treats aren't just good for you pooch, they're good for the planet! Cricket protein contains all the essential amino acids, similar to other animal proteins. Crickets provide triple the protein of beef and twice the iron of spinach! The chitin and protein from crickets have a pre-biotic effect in the gut of dogs and helps support a healthy microbiome. Both the crickets and grubs in Jimminy's formulas scored above 80 digestibility studies with dogs, this means they are considered a "high-quality protein!" Vets have already begun to use Jimminy's formulas in elimination diets because insect protein doesn't appear to be an allergen. This is NOT the case with beef, chicken, lamb, or soy. Insect protein is a sustainable protein, more so than just about any other source. If you switch one dog from a chicken-based diet to an insect-based diet, it saves about 480,000 gallons of water per year!!! Finally, using crickets as a protein source is very humane. Crickets get to live a very natural lifestyle and are harvested close to the end of their lives. Using Jimminy's cricket-based foods and treats is truly a win for your dog and a win for the planet!

Guaranteed Analysis:

CRUDE PROTEIN 15% min
CRUDE FAT 9.0% min
CRUDE FIBER 4.0% max
MOISTURE 30% max

Ingredients: Oats, Dried Black Soldier Fly Larvae, Vegetable Glycerin, Molasses, Pumpkin, Flaxseed Oil, Peanut Butter, Vegetable Gelatin, Cranberry, Salt, Tapioca Starch, Brewers Yeast, Cultured Whey, Distilled Vinegar.



Manufacturer: Jiminy's
See all products from Jiminy's
Visit Manufacturer's website: www.jiminys.com
Jiminy's Peanut Butter Cranberry and Grub Dog Treats 6oz
UPC: 852201007667