Description is below picture. Click for larger image.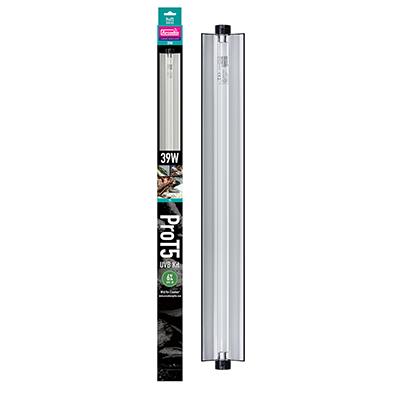 Arcadia Reptile ProT5 Kits are made with quality electronics and are very adaptable. This kit includes a removable reflector, power cable, and fittings kit. Also includes a free link cable, allowing you to daisy chain this fixture with up to 9 other ProT5 or Jungle Dawn LED Bars (ten total).
This 36-inch Fixture includes a 39-watt, 34-inch T5 High Output D3+6% Forest UV-B Bulb for forest-dwelling reptiles. This bulb is made in Germany, is flicker free, produces excellent color rendition, and lasts a long time; 12 months! This fixture WILL NOT WORK with standard fluorescent tubes. Use only T5 High- Output tubes.
UV-B - 6%
UV-A - 30%
Kelvin - 7000K°
Tube Diameter - 016mm


Manufacturer: Arcadia Reptile
See all products from Arcadia Reptile
Visit Manufacturer's website: arcadiareptile.com
Arcadia Pro T5 UVB D3+ Forestt 6%UV-B 36in Single Lamp Kit
EAN: 5060127656523