Description is below picture. Click for larger image.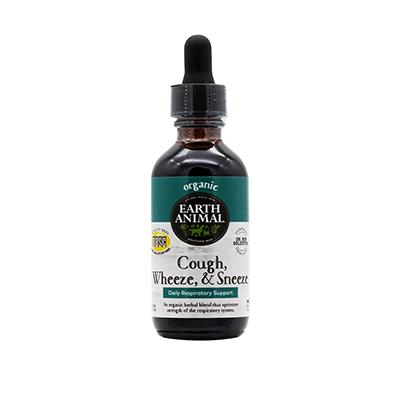 An organic herbal blend made to support normal respiratory health and function. This blend also helps with the inflammation response and circulation in the nose, sinus, and lungs. Earth Animal's Cough, Wheeze, and Sneeze Support should be administered orally twice a day, and then once a day or every other day for continued maintenance.
Active Ingredients: Organic and Wildcrafted Herbal Extracts (Mullein, Coltsfoot, Echinacea Leaf and Root, Elecampane, Usnea, Lobelia, Myrrh, Licorice, Osha).
Inactive Ingredients: Alcohol, Chestnut Bud Flower Essence, Glycerin, Olive Flower Essence, Nasturtium Flower Essence, and Water.

Manufacturer: Earth Animal
See all products from Earth Animal
Visit Manufacturer's website: www.earthanimal.com
Earth Animal Respiratory Support for Cats and Dogs 2oz
UPC: 857253003094