Description is below picture. Click for larger image.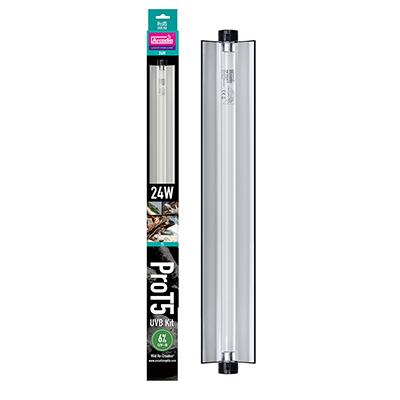 This listing is for refurbished Arcadia 24" 6% UVB Fixture Kits. Kit contains fixture, bulb, power cable, and fittings kit, but does not include linking cable. Kits come in generic boxes and may or may not have cosmetic blemishes.
Arcadia Reptile ProT5 Kits are made with quality electronics and are very adaptable. This kit includes a removable reflector, power cable, and fittings kit. Arcadia UVB Fixtures have the capability to be daisy chained with up to 9 other ProT5 or Jungle Dawn LED Bars (ten total).
This 24-inch Fixture includes a 24-watt, 22.5-inch T5 High Output D3+6% Forest UV-B Bulb for forest-dwelling reptiles. This bulb is made in Germany, is flicker free, produces excellent color rendition, and lasts a long time; up to 12 months! This fixture WILL NOT WORK with standard fluorescent tubes. Use only T5 High- Output tubes.
UV-B - 6%
UV-A - 30%
Kelvin - 7000K°
Tube Diameter - 016mm


Manufacturer: Arcadia Reptile
See all products from Arcadia Reptile
Visit Manufacturer's website: arcadiareptile.com
Arcadia Pro T5 D3+ Forest 6%UV-B 24in Single Lamp Kit USED
UPC: 053176812649