Description is below picture. Click for larger image.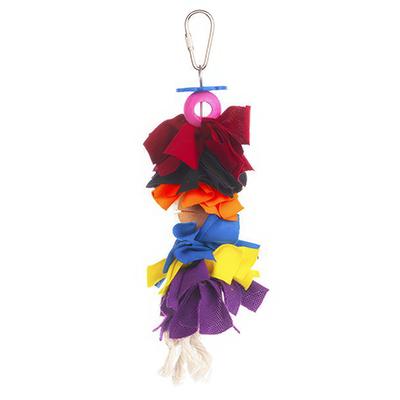 Prevue Pet Products Bow Dangles is the ultimate bird toy for your feathered friend. Crafted from 100% bird-safe materials, it's designed to provide your bird with both mental stimulation and rugged physical play.
Made with a combination of soft fabric, plastic beads and discs, wood chunks, and rope, this toy will keep your bird thoroughly entertained while also promoting healthy beak exercise.
Worried about installation? Fear not! This fantastic toy connects effortlessly to your bird's cage with stainless steel wire twist-link attachments, ensuring a secure and durable fit.
Bow Dangles bird toy specifications:
Length: 5 3/4 inches
Width: 2 1/2 inches
It's the ideal size for small and medium-sized birds, measuring 7 inches to 18 inches from beak to tail.

Remember, though this toy is designed with safety in mind, always supervise your birds during playtime to ensure their well-being.

Give your avian companion the joy and entertainment they deserve with the Prevue Pet Products Bow Dangles. Order now and make your bird's day!



Manufacturer: Prevue Hendryx
See all products from Prevue Hendryx
Visit Manufacturer's website: www.prevuepet.com
Bow Dangles Small Mental and Physical Stimulation Bird Toy
UPC: 048081625156