Description is below picture. Click for larger image.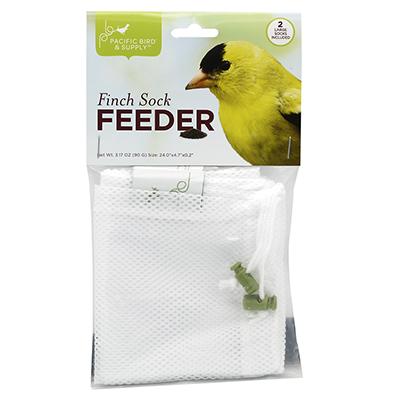 Finch Sock Feeder
The Pacific Bird® Nyjer® Sock Feeder is a fantastic way to attract a variety of colorful birds to your yard, including finches, chickadees, titmice, nuthatches, and redpolls.
Instructions for Use:
Using a Sock Feeder is a breeze. Just fill the sock with thistle seed, close it, and secure it with the locking button. Then, hang it from a tree limb, hook, or pole, around 5 feet above the ground.
Instructions for Care:
To ensure a healthy feeding environment, clean the feeder every two weeks with a mild soap and warm water solution. Please note that the feeder is not dishwasher safe.
Benefits:

Each pack contains two large socks.
Easy to use.
The feeder is refillable and can be used repeatedly.
It can hold around 2 pounds of thistle seed.

Feeding Hints:

Keep the feeders filled throughout the year.
Provide a source of fresh water.
Place feeders near cover-trees or shrubs.
Remember to clean feeders regularly.