Description is below picture. Click for larger image.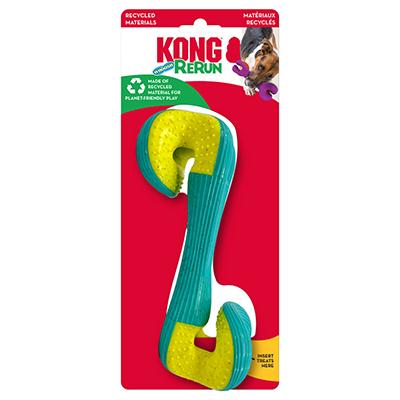 KONG Rerun Whoosh: Elevate Your Dog's Playtime
Introducing the KONG Rerun Whoosh, a gateway to endless fetching fun coupled with a clever treat-holding design that rewards even the most inquisitive of pups. Purposefully shaped to nestle comfortably in your dog's grasp, this toy goes beyond entertainment, offering dental care benefits with its specialized nubs that gently cleanse teeth and gums during play.
Fetching Fun and Treat Rewards: Elevate playtime to the next level with the built-in treat compartment, designed to challenge and engage your furry friend, providing both mental stimulation and savory rewards.

Ergonomically Designed: Crafted for your dog's comfort, the KONG Rerun Whoosh is shaped to fit naturally in their paws, ensuring hours of play without discomfort.

Oral Health Benefits: While your dog chews, the special nubs work their magic, aiding in maintaining healthy teeth and gums, promoting better oral hygiene with every joyful bite.

Stimulating Sound: Ignite your dog's natural instincts with the unique whooshing sound, triggering their curiosity and enhancing their play experience.

Unpredictable Bounce: Keep your pup on their toes with the toy's erratic bounce, perfect for fueling interactive fetching sessions that guarantee excitement.

Environmentally Conscious: Play with a purpose. The KONG Rerun Whoosh is made from 51% recycled material, ensuring that your pet's joy contributes to a planet-friendly playtime.
Upgrade your dog's playtime with the KONG Rerun Whoosh — where entertainment, enrichment, and eco-consciousness converge. Toy measures about 8.25-inches long x 2.25-inches wide.



Manufacturer: Kong
See all products from Kong
Visit Manufacturer's website: www.kongcompany.com
Kong Whoosh ReRun Eco Dog Toy Medium Large
UPC: 035585523033