Description is below picture. Click for larger image.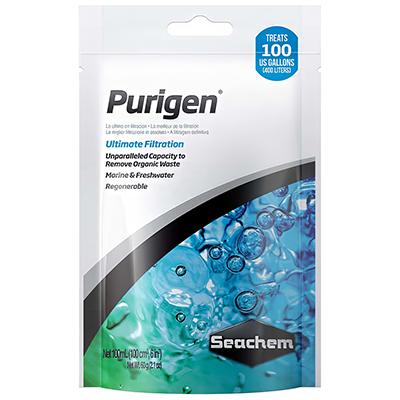 Experience Unmatched Water Filtration with Purigen
Discover the extraordinary power of Purigen, the ultimate synthetic adsorbent that stands apart from all other filtration solutions. Unlike ordinary ion exchangers or adsorbents, Purigen is a remarkable macro-porous synthetic polymer engineered to eliminate soluble and insoluble impurities from water. In fact, its effectiveness surpasses competitors by an astounding 500% or more.
Unrivaled Purification: Purigen excels at eliminating ammonia, nitrites, and nitrates by efficiently extracting nitrogenous organic waste. This prevents the release of harmful compounds, safeguarding your aquatic environment.
Minimal Impact on Trace Elements: Rest easy knowing that Purigen has minimal influence on crucial trace elements, preserving the delicate balance of your aquatic system.
Elevated Redox Levels: Experience a noticeable enhancement in redox levels, contributing to the overall vitality of your aquatic life.
Crystal-Clear Results: Watch in awe as Purigen transforms your water, providing unparalleled clarity that enhances the beauty of your marine or freshwater habitat.
Easy Rejuvenation: As Purigen exhausts over time, it gradually darkens, signaling the need for regeneration. Revive its remarkable performance by simply treating it with bleach.
Adaptable to Any Environment: Whether you have a marine or freshwater setup, Purigen's versatile design ensures optimal performance in both.


Manufacturer: SeaChem Laboratories
See all products from SeaChem Laboratories
Visit Manufacturer's website: www.seachem.com/Home/index.html
SeaChem Purigen Aquarium Filter Resin 100ml
UPC: 000116016506