Description is below picture. Click for larger image.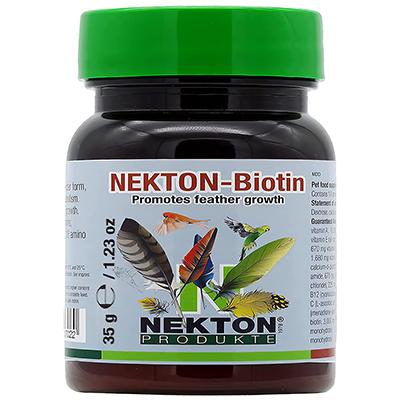 Supplement to quickly grow bright, strong feathers
Contains 18 amino acids
NEKTON-Biotin helps birds molt smoothly and regrow feathers. It contains all the necessary vitamins, amino acids, minerals, trace elements, and a substantial amount of biotin. NEKTON-Biotin also promotes shiny and healthy feathers in birds. Poor nutrition is often the main cause of plumage damage in birds. A diet rich in protein is crucial for maintaining a beautiful plumage. Birds also need enough vitamins, minerals, and trace elements to keep their metabolism functioning properly. During molting, birds may experience protein deficiency, vitamin and mineral imbalances, which can lead to health issues. NEKTON-Biotin has been specially formulated to address these issues and balance the amino acid ratios, often found to be less than optimal, in plant-based, commercial bird foods. It is recommended not to use any other vitamin supplements while using NEKTON-Biotin. NEKTON-Biotin is easy to administer via drinking water or soft feed because it dissolves quickly in cold water.
How to feed:
To use NEKTON-Biotin, dissolve 1 gram (1 level spoonful of the included spoon) of it in 250 milliliters (8.45 fl. oz.) of water or 100 grams (3.53 oz) of soft food. It's best to prepare only the amount of water or food that the bird will consume in a day and replace it daily. Each enclosed measuring spoon holds 1 gram (0.035 ounces) of NEKTON-Biotin.
For severe plumage damage, you can give a double or triple dose of NEKTON-Biotin until the bird begins forming new feathers. Then switch back to the regular dose until the new feathers are fully formed.
Because NEKTON-Biotin has higher levels of vitamin D and trace elements than complete feeds, it should make up no more than 5% of the bird's daily diet.
Storage:
NEKTON-Biotin should be stored dry and out of sunlight, between 15° and 25° C (59° and 77° F). DO NOT STORE IN THE FRIDGE !!!


Composition:
Dextrose, calcium carbonate

Technological additives:
5,000 mg/Kg sepiolite, silica

Nutritional additives per kg (2.2lbs):
6,600,000 IU vitamin A, 10,000 IU vitamin D3, 20,160 mg vitamin E (all-rac-alpha-tocopheryl acetate), 670 mg vitamin B1 (thiamine mononitrate), 1,680 mg vitamin B2 (riboflavin), 3,330 mg calcium D-pantothenate, 10,000 mg niacinamide, 670 mg vitamin B6 (pyridoxine hydrochloride), 225 mg folic acid, 2,000 µg vitamin B12 (cyanocobalamin), 16,670 mg vitamin C (L-ascorbic acid), 1,333 mg vitamin K3 (menadione sodium bisulfite), 200,000 µg biotin, 2,500 mg iron (ferrous sulphate, monohydrate), 1,220 mg zinc (zinc sulphate, monohydrate), 1,255 mg manganese (manganese (II) sulphate, monohydrate), 200 mg copper (copper(II) sulphate, pentahydrate), 100 mg iodine (calcium iodate, anhydrous)

Available in 5 sizes: 35g (1.23oz), 75g (2.65oz), 150g (5.29oz), 330g (11.64oz), 700g (24.69oz)



Manufacturer: Nekton
See all products from Nekton
Visit Manufacturer's website: www.nekton.net
Nekton-Bio for Bird Feathering 35g (1.23oz)
EAN: 0733309207022