Description is below picture. MouseOver for larger image.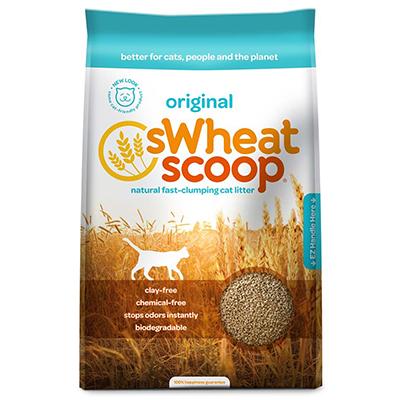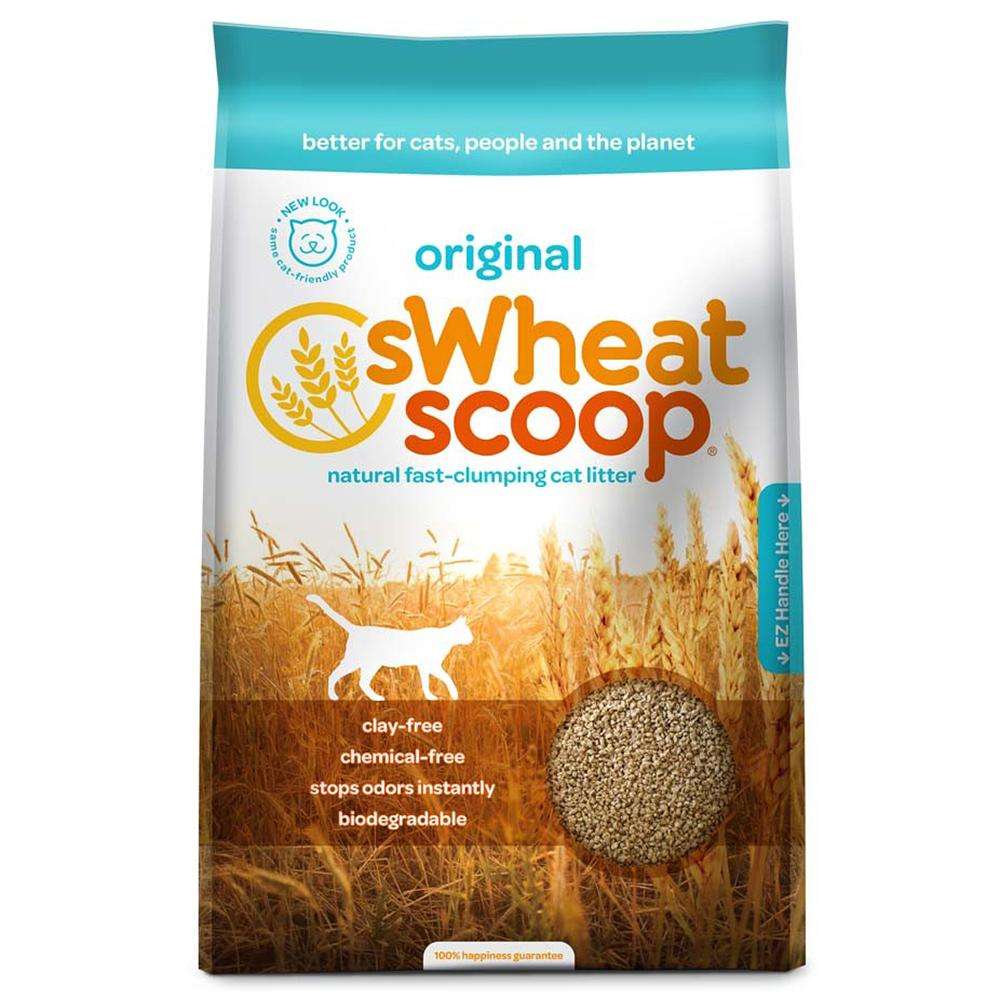 If you think a scoopable litter has to be loaded with clay and chemicals to clump and control odor, you're in for a surprise! Swheat Scoop litter is made from naturally processed wheat, which means it's clay free, chemical free, fragrance free, and biodegradable.
Naturally eliminates odors: Thanks to Swheat Scoop's patented process, this litter's natural wheat enzymes work continuously to neutralize litter box odor, no matter how many cats you own. Clumps firmly for easy scooping. Through this same process, natural wheat starches are exposed to form firm, solid clumps when they come in contact with moisture. You can then scoop clumps out with ease.
Low dust, less tracking: Wheat also makes for a neater litter that doesn't get tracked around the house or raise clay dust clouds when poured.
Good for multi-cat homes: Whether you own one cat or a dozen, Swheat Scoop litter has the deodorizing strength it takes to keep your house smelling fresh and clean.
Safe for kittens: Unlike clay-based scoopable litters, this litter is veterinarian-recommended for kittens and newly declawed cats.
Safely digestible: Swheat Scoop litter is safe and non- toxic for cats and kittens, as well as other household pets. The granules can be licked during grooming or digested without serious health consequences.
Soft on sensitive paws: For cats and kittens with tender paws, Swheat Scoop litter is a softer choice than many clay or pelleted litters. In fact, it's so gentle, it's even recommended by veterinarians for newly declawed cats.
Cat accepted: Cats are creatures of habit, and can be apprehensive when they encounter a different litter. But they find it easy to get used to Swheat Scoop litter because it looks and feels like conventional litter.
100% biodegradable: Each year, over 2 million tons of cat litter ends up in municipal solid waste landfills (Judd Alexander, In Defense of Garbage, Praeger 1993). Most of that litter, an estimated 100,000 truckloads per year, is made from clay that is mined and doesn't biodegrade because it's never reabsorbed by the earth. Strictly speaking, clay-based litters never biodegrade because they cannot be absorbed or broken down by the organic environment. But Swheat Scoop litter will readily break down upon disposal and simply dissolve away.That's why the time is right to consider the merits of a product like Swheat Scoop Natural Wheat Litter.
100% compostable: Swheat Scoop litter can be composted or used as mulch for ornamental plants (non-vegetable gardens) once it has been thoroughly scooped.
A renewable resource: Swheat Scoop litter is made from naturally processed, secondary (non-food grade) wheat grown in the heart of the Great Plains states.
Safe: Some cat owners question the safety of scoopable clay litters for their family and pets. They want to know if it's harmful to inhale the silica dust when these products are poured, and whether it's hazardous if their cat licks or ingests the granules during grooming.


Manufacturer: Pet Care Systems
See all products from Pet Care Systems
Visit Manufacturer's website: www.swheatscoop.com
SWheat Scoop Natural Wheat Cat Litter 36 Lb.
UPC: 787748640360