Description is below picture. MouseOver for larger image.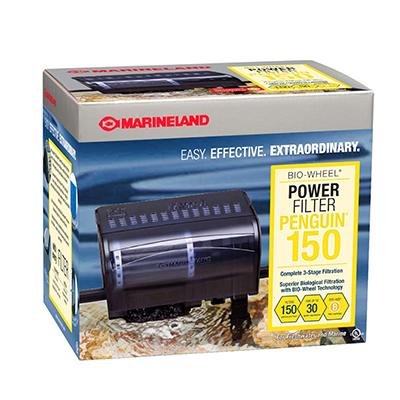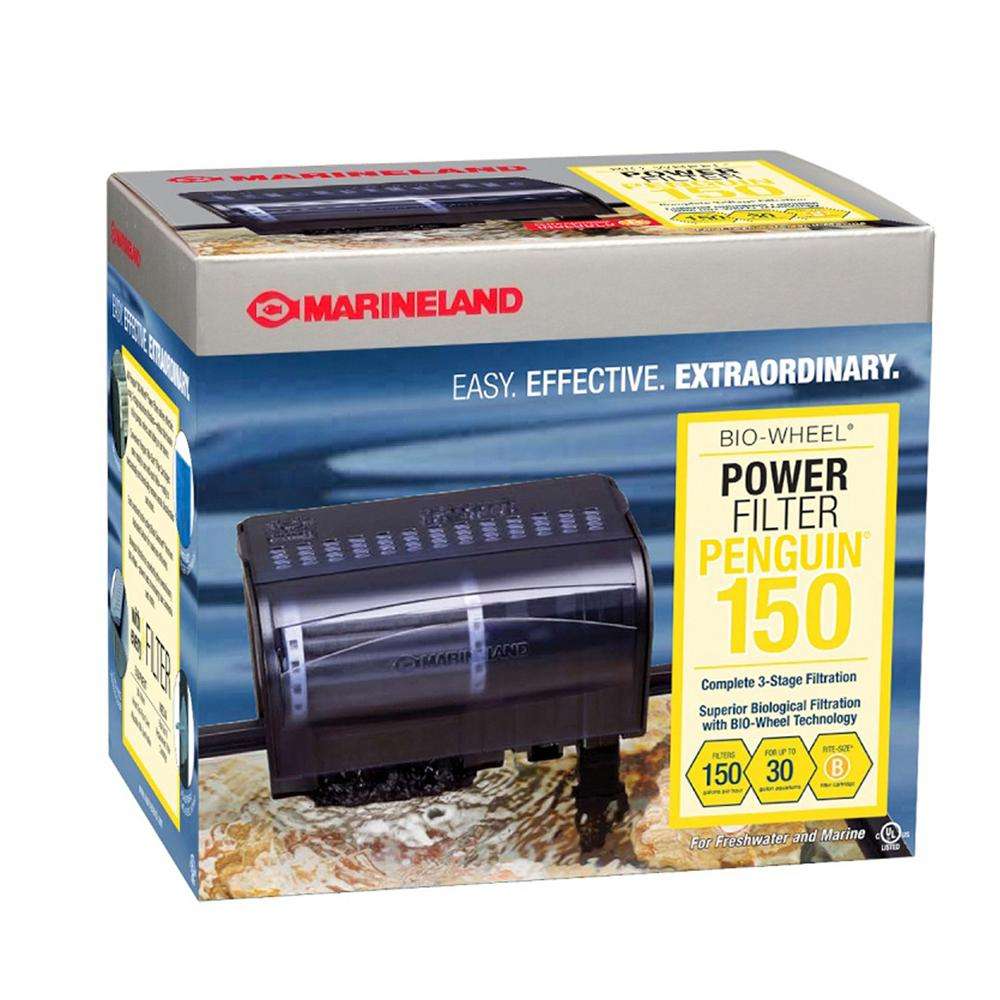 The Penguin Bio-Wheel 150 Power Filter filters 150 GPH, and is for all aquariums up to 30 gallons. The Penguin 150 uses the Rite-Size "B" Filter Cartridge.

All Penguin® BIO-Wheel Power Filters deliver simple, easy, 3-stage aquarium filtration...without the hassle of air pumps, valves, tubing or air stones.Now there are new features, new sizes, increased flow rates and a BIO-Wheel that's up to 50% larger!

The new two-piece filter hood provides quick flip-top filter cartridge access. A noise- reducing vented cover ensures quieter operation. The adjustable mid-level intake increases water circulation throughout the aquarium and the larger 200 and 350 models feature extra media slots -- you can add an extra Rite-Size Filter Cartridge or Penguin Refillable Media Cartridge for enhanced chemical filtration.

Convenient Penguin Rite-Size Filter Cartridges come ready to use with each filter...ready to mechanically and chemically remove waste, discoloration and odors. Each contains new faster-acting Black Diamond Premium Activated Carbon for maximum efficiency. Biological filtration is provided by the revolutionary BIO-Wheel - proven best at removing toxic ammonia and nitrite. Maintenance is fast and easy. The Rite-Size Cartridge changes in seconds - with no messy assembly required. And the BIO-Wheel never needs replacing!
NEW PERFORMANCE FEATURES
Noice-Reducing Vented Cover for quieter operation
Two-Piece Filter Hood for flip-top filter cartridge access
Adjustable Mid-Level Intakeattaches to the Intake Extension Tube to provide increased water circulation.
Leak Proof, Easy-Care Design
One-piece tank and motor assembly means no O-rings to fail. Single moving part removes easily for cleaning. No oiling or motor maintenance required.
Automatic Self-Starting Feature Restarts automatically. No messy siphons or valves.
Worry-Free, Safety Engineering
UL listed; cUL or CSA listed. Epoxy-sealed, moisture-proof motor ensures safe operation


Manufacturer: Marineland
See all products from Marineland
Visit Manufacturer's website: www.marineland.com
Penguin BioWheel 150 Aquarium Power Filter
UPC: 047431503618