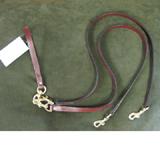 The Pet Walker Plus allows you to walk two dogs with ease and control. This double dog leash has a patented anti-tangle design that allows dogs to walk over and under each other with out tangling.

Overall length of leash with handle is approximately 56 inches, each individual leash measures approximately 43 inches long from clip to clip. Leash measures 3/4 inch wide.
PET WALKER-PLUS™ has the following advantages over other leashes:
Patented swivel design allows dogs to walk over and under each other without tangling.
Ranges between leads allow each dog individualism and separate mobility needed to perform natural duties.
Separate leads allow pet owners to control and correct each dog when needed. Leads have snaps at both ends allowing pet owners the option to walk one or two together.
This leash can be used on different sized dogs. Both large and small together.
Photos do not do this leash justice. This is a well made quality leash, and is the leash style used used by Arcata Pet's General Manager for his two Brittanies.



Manufacturer: Pet Walker Plus
See all products from Pet Walker Plus
Pet Walker-Plus Brown Leather 2-Dog Leash Large
UPC: 606279017024
Condition:New