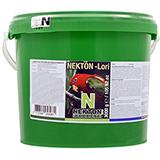 Complete food concentrate for nectar-eating parrots
NEKTON-Lori is a complete and balanced food for all types of parrots that naturally consume liquid foods such as flower nectar, plant juices, and pollen. The recipe of NEKTON-Lori uses high-quality ingredients that strictly follow nature's guidelines, while also taking into account the unique digestive system of nectar-eating parrots. It prioritizes highly digestible proteins, easily digestible carbohydrates, and essential fatty acids enriched with vitamins, trace elements, and minerals, resulting in an optimal blend. You don't need to offer any other food, and you shouldn't administer any other vitamin supplements while using NEKTON-Lori.
How to feed:
To prepare the feed solution for your lorikeet, mix 10 grams (one spoonful of the included spoon) (0.35 oz) of NEKTON-LORI with 100 ml (3.38 fl oz.) of lukewarm water at 30 °C (86 °F). Gently stir the mixture until it dissolves completely.
Avoid using a blender or whisk when mixing NEKTON-LORI, as it can mechanically destroy some vitamin components and alter the vitamin ratio. Once the solution is ready, transfer it to a feeding container and offer it to your loris.
Storage:
Storage:
NEKTON-Lori should be stored dry and out of sunlight, between 15° and 25° C (59° and 77° F). DO NOT STORE IN THE FRIDGE !!!


Composition:
Dextrose, soy protein isolate (GMO-free), rice digested, fructose, soy (GMO-free), fine biscuit, sucrose, bee pollen, dicalcium phosphate, sodium chloride, calcium carbonate, potassium dihydrogen phosphate, calcium gluconate, safflower oil, magnesium carbonate, potassium chloride, calcium glycerophosphate.

Technological additives:
Sorbic acid, silica.

Analytical constituents:
Crude protein min. 21.9 %, crude fat min. 3.5 %, crude fibre max. 0.3 %, moisture max. 5.0 %.

Nutritional additives per kg (2.2lbs):
39,600 IU vitamin A, 1,998 IU vitamin D3, 40 mg vitamin E (all-rac-alpha-tocopheryl acetate), 24 mg vitamin B1 (thiamine mononitrate), 26.7 mg vitamin B2 (riboflavin), 20 mg calcium D-pantothenate, 60 mg niacinamide, 17.3 mg vitamin B6 (pyridoxine hydrochloride), 1.3 mg folic acid, 2,345 µg vitamin B12 (cyanocobalamin), 200 mg vitamin C (L-ascorbic acid), 8 mg vitamin K3 (menadione sodium bisulfite), 10,230 µg biotin, 100 mg choline chloride, 36.3 mg iron (ferrous sulphate, monohydrate), 9.2 mg copper (copper sulphate, pentahydrate), 5.3 mg zinc (zinc sulphate, monohydrate), 7.6 mg manganese (manganese sulphate, monohydrate)

Available in 4 sizes: 500g (1.1Lb), 1000g (2.2Lb), 3000g (6.6Lb), 6000g (13.2Lb)



Manufacturer: Nekton
See all products from Nekton
Visit Manufacturer's website: www.nekton.net
Nekton-Lori Complete Lory Diet 3000g (6.6lbs)
EAN: 0733309253081
Condition:New