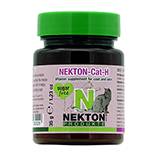 A vitamin supplement to improve the skin and coat of all cats.
NEKTON-Cat-H is a special supplement for cats that contains all the essential vitamins, a generous amount of biotin (over 23,000 µg), the crucial amino acid arginine, and the beneficial amino-sulfonic acid taurine. NEKTON-Cat-H promotes beautiful, shiny coats and supports excellent fur development. It effectively addresses common issues like rough or brittle coats, unusual light spots, and changes in the skin. NEKTON-Cat-H also helps combat lesser-known effects of biotin deficiency, such as weakness, diarrhea, stress, and paralysis. It is important to exclusively use NEKTON-Cat-H and avoid other vitamin compounds while using it.
Cats are strict meat eaters known as "carnivores," and their dietary needs differ from those of dogs, which have evolved as omnivores. This means cats have a unique metabolism and require specific nutrition.
The food that cats are typically given by humans doesn't always align with their natural diet, neglecting their specific needs as meat eaters. In the wild, cats meet their requirements for meat, fat, trace elements, vitamins, and minerals by consuming their prey in its entirety, including the fur, organs, stomach, and intestines.
The key elements in cat nutrition are vitamins, proteins, and minerals. Due to their specialized metabolism, cats can experience deficiencies in these essential dietary components, especially when facing high levels of stress (such as high-performance demands, shows, or illnesses).
Biotin, as a coenzyme, plays a crucial role in various metabolic reactions and is responsible for normal growth, digestion, and reproductive regulation. Biotin is particularly important for maintaining healthy skin and preserving a shiny coat.
A deficiency in biotin can manifest as dry saliva around the mouth and discharge around the eyes, flaky skin, hair loss, general health issues, weakness, diarrhea, and muscle stress, even leading to complete paralysis of the lower body.
ARGININE is an essential amino acid and a vital component in the body's urine cycle. Both young and older cats require arginine for their well-being. Without enough arginine, the concentration of ammonia in the blood rises, resulting in symptoms like excessive salivation, vomiting, trembling, seizures, loss of consciousness, and even death, often mistaken for poisoning.
TAURINE is also an essential amino-sulfonic acid necessary for proper nutrition. Cats can only produce the required bile acids when they have an adequate supply of taurine. Additionally, as cats consume more fiber in their diet, their taurine intake needs to increase accordingly.
A deficiency in taurine can lead to fertility issues, and kittens born to mothers lacking taurine may experience multiple neurological defects, eye abnormalities, and blindness.
How to feed:
Add 1 spoonful NEKTON-Cat-H powder to the food every day for an adult cat.
Do not use other vitamin or mineral dietary supplements at the same time.
Because of this supplement's higher content of vitamin D and trace elements than in a complete feed, it may only be added to 16% of a cat's daily ration.
A green measuring spoon is attached to each bottle of NEKTON-Cat-H. 1g of NEKTON-Cat-H corresponds to one measuring spoon.
Storage:
NEKTON-Cat-H should be stored dry and out of sunlight, between 15° and 25° C (59° and 77° F). DO NOT STORE IN THE FRIDGE !!!

Composition:
Dextrose, calcium carbonate, sodium chloride, dicalcium phosphate

Technological additive:
Silicic acid

Analytical constituents:
Crude protein 13.6 %, crude fat 0.1 %, crude fiber 0.1 %, crude ash 39 %, Ca 14 %, Na 0.5 %, P 0.06 %

Nutritional additives per kg (2.2Lbs):
375,000 I.U. vitamin A, 12,000 I.U. vitamin D3, 3,900 mg vitamin E (all- rac-alpha-tocopherylacetate), 600 mg vitamin B1 (thiamine mononitrate), 310 mg vitamin B2 (riboflavin), 300 mg vitamin B6 (pyridoxine hydrochloride), 1,020 mg calcium-d-pantothenate, 4,400 mg niacinamide, 98 mg Folic acid, 2,400 µg vitamin B12 (cyanocobalamine), 23,160 µg biotin, 120 mg taurine, 360 mg iron (ferrous(II)-sulfate, monohydrate), 216 mg zinc (zinc sulfate, monohydrate), 37 mg iodine (calcium iodate, free of water).

Available in 2 sizes: 35g (1.23oz), 150g (5.29oz).



Manufacturer: Nekton
See all products from Nekton
Visit Manufacturer's website: www.nekton.net
Nekton-Cat-H Feline Skin & Coat Supplement 35g (1.23oz)
EAN: 0733309282029
Condition:New