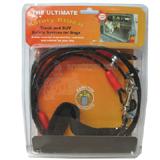 Tried and true coated-steel cable truck/SUV safety restraint for dogs. This design, while poorly documented, is quite versatile and lends itself to multiple configurations. It can be used with either single or double attachment points.

This restraint includes the following:
1 - 104-inch coated-steel cable with a central loop and two U-bolt clamps on both ends. This allows eyelets of almost any size to be made at the attachment points.
1 - 14-inch coated-steel cable (including eyelets) with a standard swivel snap attached to one end.
1 - 8-inch long, 1-inch wide single-ply nylon handle attached to a standard swivel snap.


Manufacturer: Hamilton Products
See all products from Hamilton Products
Visit Manufacturer's website: www.hamiltonproducts.com
Safety Rider Truck and SUV Safety Restraint for Dogs
UPC: 013227532698
Condition:New