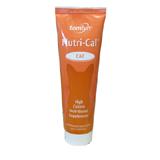 High-Calorie Dietary Supplement
Veterinarian recommended Nutri-Cal for cats is a nutritious and highly palatable paste that is designed to provide high-quality nutrition when your cat is not consuming normal amounts of food, is acting finicky, or extra calories are required.
Use:
Nutri-Cal for Cats flavorful and readily accepted; encourage your cat to eat Nutri-Cal by placing a small amount in the mouth or below the nose.
Amount to use:
Used as a supplement: 1½ Tsp. for every 10-Lbs. of body weight over the course of a day.
Used when cat is eating little or no food: 3 Tsp. for every 10-Lbs. of body weight over the course of a day.
Ingredients:
Corn Syrup, Soybean Oil, Malt Syrup, Cod Liver Oil, Cane Molasses, Methylcellulose, Water, Gelatin By-products, dl-Alpha Tocopheryl Acetate (Vitamin E), Sodium Benzoate (Preservative), Manganese Sulfate, Ferric Ammonium Citrate, Thiamine HCl, Niacin, Calcium Pantothenate (Source of Calcium and Pantothenic Acid), Magnesium Sulfate, Pyridoxine HCl, Potassium Iodine (Source of Iodine and Potassium), Riboflavin 5- Phosphate Sodium (Source of Vitamin B2 and Phosphorus) Vitamin A Palmitate & D Supplement, Folic Acid, and Cyancobalamin (Vitamin B12).
Guaranteed Analysis:
Crude Protein
40.80 mg
0.68% (min.)
Crude Fat
1688.40 mg
28.14% (min.)
Ash
30.0 mg
0.50% (max.)
Calcium
0.16 mg
0.0026%
Phosphorus
0.02 mg
0.0003%
Potassium
0.15 mg
0.0025%
Sodium
1.01 mg
0.0168%
Chloride
0.33 mg
0.0055%
Magnesium
0.95 mg
0.0063%
Iron
0.53 mg
0.0158%
Manganese
0.95mg
0.0158%
Iodine
0.48 mg
0.0080%
Vitamin A
734 IU
Vitamin D
55 IU
Vitamin E
5 IU
Thiamine (Vitamin B1)
1.52 mg
Riboflavin (Vitamin B2)
0.011 mg
Pantothenic Acid
1.74 mg
Niacin
1.90 mg
Folic Acid
0.19 mg
Pyridoxine (Vitamin B6)
0.73 mg
Cyanocobalamin (Vitamin B12)
1.83 mcg
Net Weight: 4.25-oz. Tube



Manufacturer: Nutri-Cal
See all products from Nutri-Cal
Visit Manufacturer's website: www.tomlyn.com
Nutri-Cal Cat High-Calorie Dietary Supplement for Cats
UPC: 030521067879
Condition:New