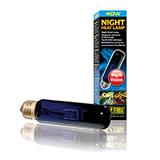 The Exo-Terra Night Heat Lamp is an excellent lamp for nocturnal viewing without disrupting the animal's day and night cycle. Blue glass emits light that simulates natural moonlight. The Night Heat Lamp strikes the perfect temperature balance by putting out enough heat to simulate tropical night time temperatures, but still allowing a temperature drop when day basking lamps are switched off.
Low profile T10 configuration, 40 watt.
Recreates natural moonlight.
Minimal heat output to simulate night time tropical temperatures.
Ideal for stimulating natural behavior in reptiles and amphibians.
Combine with day time basking and UVB bulbs for a complete 24 hour cycle.


Manufacturer: Exo Terra
See all products from Exo Terra
Visit Manufacturer's website: www.exo-terra.com/
Exo Terra Night Heat T10 40w Moonlight Bulb for Terrariums
UPC: 015561221245
Condition:New