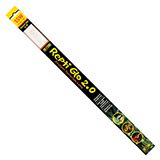 The Exo Terra Repti Glo 2.0 linear T8 fluorescent bulb is an excellent visual light bulb with low UVB output. It is suitable as a daytime bulb for all amphibians, many snakes, and nocturnal animals. Because this bulb has a CRI of 98, plants will also thrive under it.
18-inch (45cm), 15watt linear T8 fluorescent light bulb.
Ideal for all amphibians.
Very close to natural daylight (6700K).
Excellent color rendition for bright vibrant colors.
UVA Radiation stimulates reproductive behavior, appetite, and activity.
Complements bulbs that put out higher UVB to boost visible light.
Great for plants.


Manufacturer: Exo Terra
See all products from Exo Terra
Visit Manufacturer's website: www.exo-terra.com/
Repti-Glo 2.0 18-inch Full Spectrum UVB Reptile Bulb
UPC: 015561221504
Condition:New