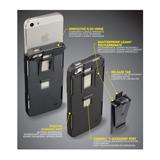 The Connect Case for the iPhone 5 is the last case you'll need to purchase. The Connect Case offers protection from everyday ware and tear, provides shock-absorption, and keeps your phone's features constantly accessible.
Designed specifically for the Apple iPhone 5
Solid black color.
Made from Lexan®, a high-strength and shatterproof plastic.
Molded case has a positive diamond grip, making it easy to hold on to.
Inserting your iPhone 5 into the case is simple, thanks to the one piece flex-hinge design.
Removable Connect Clip is also made from Lexan®
Includes a Nite Ize S-Biner carabiner, designed to attach to the Connect Clip for many possible attachments.
Includes a clear anti-fingerprint screen protector.
The Connect Case has been designed for seamless use with other Connect accessories.


Manufacturer: Nite Ize, Inc.
See all products from Nite Ize, Inc.
Visit Manufacturer's website: www.niteize.com/collections/pets
Connect Case iPhone 5 Phone Case Black
UPC: 094664026360
Condition:New