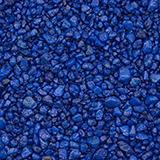 Spectrastone high quality freshwater aquarium substrates are available in a variety of pebble sizes and striking colors. Depending on your specific application use between 1 and 1½ pounds of gravel per gallon of aquarium capacity.
Beautiful Special Blue color.
Natural product with a coating that is 30% plant-based.
Will not affect water chemistry.
Non-toxic and colorfast.
Ideal for freshwater aquariums, terrariums, ponds, water gardens, potted plants, arts & crafts, and many other uses!


Manufacturer: Clifford W. Estes Company
See all products from Clifford W. Estes Company
Spectrastone Special Blue Freshwater Gravel 5-Lb.
UPC: 034652405029
Condition:New