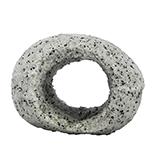 The Penn Plax Deco-Replica Cave Hideaway instantly transforms aquariums into the perfect habitat for African Cichlids and other territorial fish. Molded resin "rocks" feature multiple holes and when stacked together create a labyrinth of nooks and crannies your fish will use and enjoy.
Small Stone is approx. 2.5" high and has two holes.
Creating structure and hiding places in the aquarium may reduce aggression in territorial fish, especially African Cichlids.
Stimulates natural behavior including courtship and breeding.
Combine with other Hideaway Cave sizes for endless combinations of structure.
Realistic granite-textured resin.


Manufacturer: Penn Plax
See all products from Penn Plax
Visit Manufacturer's website: www.pennplax.com
Deco-Replicas Hide-Away Small Cave Aquarium Decoration
UPC: 030172078545
Condition:New