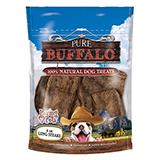 Loving Pets Buffalo Lung Treats are sourced from free-range buffalo, free from hormones and antibiotics. Buffalo Lung steak is a natural product with no additives or preservatives.
Bolsters dental health by stimulating gums and removing tartar.
Many dogs will take several hours to consume a Buffalo Lung steak.
May help prevent destructive chewing by satisfying dogs natural desire to chew.
Buffalo is a leaner alternative to beef.
Tested for health and safety at an independent US laboratory.


Manufacturer: Loving Pets
See all products from Loving Pets
Loving Pets Buffalo Lung Steaks Dog Treat 4oz
UPC: 842982056626
Condition:New