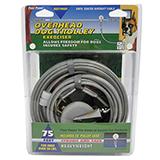 The Titan Aerial Dog Run is ideal for active dogs who cannot be left to roam on their own. Allows your dog to run to and fro, but keeps them secure in your yard and away from undesirable areas, such as gardens, compost piles, and patios. Suitable for dogs up to 80-Lbs., the Titan Aerial Dog Run includes the following hardware:
Coated, corrosion resistant 75-ft. steel aircraft trolley cable.
Coated, corrosion resistant 10-ft. steel aircraft lead cable.
One open eye and one closed eye steel screw hooks.
Pulley and two nylon pre-stops.
Two wire rope clips and one tensioning turnbuckle.


Manufacturer: Four Paws
See all products from Four Paws
Visit Manufacturer's website: www.fourpaws.com
Titan Aerial Dog Run Tree Trolley 75-ft.
UPC: 045663847753
Condition:New