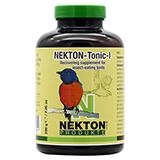 Restorative supplement for insect-eating birds.
Nekton Tonics are renowned for their restorative properties. Tonic-I is specially made for insect-eating birds. It can be added to soft foods or mixed into a slurry with water. Tonic-I contains all the vital nutrients and active ingredients, carbohydrates, fats, amino acids, vitamins, bulk and trace elements in a special form. The L-form of the amino acids is key. This allows birds to receive nutrition without straining the digestive systems. Tonic-I is especially effective when treating ailing and recovering birds, during transport, and other times of stress. Ideally suited to be used in combination with Nekton-S.
How to feed:
For birds that weigh between 3.5 - 7oz (100 - 200g):
As a nutritional supplement: 1 g (1 scoop) of NEKTON-Tonic-I to 10 ml (2 teaspoons) of water. Or: Mix 1 g NEKTON-Tonic-I with 0.3oz (10 g) soft food.
Larger birds 10g (10 scoops) of NEKTON-Tonic-I to 100 ml (0.4 cups) of water or 100g (3.5oz) of soft food. Nekton-S and Nekton-Tonic-I can be mixed together in drinking water.
Storage:
Nekton-Tonic-I should be stored dry and out of sunlight, between 15° and 25° C (59° and
77° F). DO NOT STORE IN THE FRIDGE !!!

Composition:
Dextrose, soy (GMO free), fructose, sucrose, pollen, soy protein isolate (GMO free), dicalcium phosphate, sodium chloride, calcium carbonate, potassium dihydrogen phosphate, calcium gluconate, thistle oil, magnesium carbonate, potassium chloride, calcium glycerophosphate.

Technological Additive:
Sorbic acid, silica

Nutritional additives per kg (2.2Lb):
45,540 IU vitamin A, 2,297 IU vitamin D3, 46 mg vitamin E (all-rac-alpha-tocopherylacetate), 28 mg vitamin B1 (thiamine mononitrate), 31 mg vitamin B2 (riboflavin), 23 mg calcium-d-pantothenate, 69 mg niacinamide, 20 mg vitamin B6 (pyridoxine hydrochloride), 1.5 mg folic acid, 2,700 µg vitamin B12 (cyanocobalamine), 230 mg vitamin C (L-ascorbic acid), 9.2 mg vitamin K3 (menadione-sodiumbisulfite), 10,270 µg biotin, 115 mg choline chloride, 33 mg iron (ferrous(II)-sulfate, monohydrate), 4.8 mg zinc (zinc sulfate, monohydrate), 8.3 mg copper (cupric(II)-sulfate, pentahydrate), 7 mg manganese (manganese(II)-sulfate, monohydrate)

Available in 100g (3.5 oz), 200g (7 oz), 500g (17.6 oz), 1000g (2.2Lb) and 3000g (6.6Lb) sizes.



Manufacturer: Nekton
See all products from Nekton
Visit Manufacturer's website: www.nekton.net
Nekton-Tonic-I for insect-eating birds 200gm (7oz)
EAN: 0733309256051
Condition:New