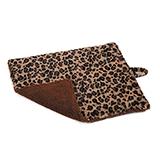 The Slumber Pet Thermal Cat Mat is a cat magnet (it's also a small dog magnet too)! The lightweight core is made with material that reflects kitty's own body heat, making it the coziest place in Kitty's world.
Machine-washable, line dry.
Brown leopard print on one side, solid color on the other (color may vary from image, call for specifics).
Measures 22 x 18½-inches, perfectly sized for cats and small dogs.


Manufacturer: Tops Pet Products
See all products from Tops Pet Products
Slumber Pet Brown Self Warming Mat for Cats and Small Dogs
UPC: 721343894711
Condition:New