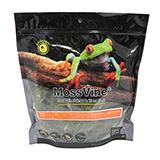 This natural moss vine is thick, flexible, and easy to climb. Made from real moss, it can be bent and twisted to work in just about any terrarium or enclosure. 12 feet long. Refresh your reptile's habitat with Galapagos!
Soft and easy to clean
100% Natural No salt chemicals, oils, or parasites
Natural enzymes discourage mites and stop odors
Great for animals that like to hang out!


Manufacturer: Galapagos
See all products from Galapagos
Galapagos Natural 12 Foot Moss Vine for Reptiles
UPC: 759834052661
Condition:New