Item 23717
Your Price today: $ 35.69
Currently out of stock. Call
or e-mail for availability info, or else click here for a form to tell us how many you wanted to order.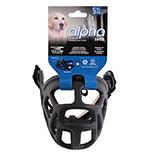 The Alpha by Zeus dog muzzle from Hagen is as durable as it is effective. Muzzles are invaluable during stressful and anxious times, especially with dogs that have a history of biting. Vet, groomer, and dog park visits are all appropriate places to use a muzzle - as long as the dog is on lead and supervised. Muzzles can also be useful on walks, preventing a dog from eating rocks or other undesirable items. No muzzle should be used to curb problem behavior or punish your dog, e.g. for barking.
Size 5 - XLarge for dogs 65-150Lbs (29.4 - 68kg) such as Newfoundland, Rottweiler, Bull Mastiff, Rhodesian Ridgeback, etc.
Muzzle length 3.6-inches (9.2cm) Muzzle Circumference 15.3- inches (39cm)
Alpha by Zeus muzzles allow for ventilation and excellent air flow due to the large openings in the muzzle
Safety hook loops around dog's collar to help ensure the muzzle stays on
How to measure snout length:
Measure along the top of the dog's snout, from the tip of the nose to approx ½-inch (1.27 cm) below the eyes. Note : Muzzle length SHOULD NOT be longer than dog's snout length; if it is, it can interfere with the dog's line of sight.

How to measure snout circumference:
Measure around the closed snout at its widest point, ie: approx ½-inch (1.27 cm) below the eyes, and add between 2-3-inches (5-7 cm) to the circumference measurements. Note: Muzzle circumference MUST BE larger than dog's snout. It CAN NOT be the exact same size or else the dog will not be able to open its mouth to pant.



Manufacturer: Hagen
See all products from Hagen
Visit Manufacturer's website: www.hagen.com
Alpha by Zeus Black Dog Muzzle Size 5 XLarge
UPC: 022517926758
Condition:New