Item 23787


Your Price today: $ 83.19



Arcata Pet does not normally stock this item. We would be happy to order it for you. Time until it arrives at our shop will vary depending on supplier availability and shipping; when it arrives we would ship to you. If you would like to have us provide an estimate of delivery time, as well as shipping charges, please tell us the quantity you need, your zip code or country, and your e-mail address. We will get back to you within 24 hours with the information so that you can decide if you want to place an order.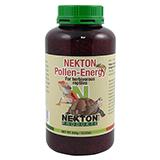 Natural pollen supplement for reptiles.
Pollen is a powerhouse of bioactive substances, nutrients, and natural components that offer numerous benefits for reptiles. Pollen has a positive impact on the immune system, helps maintain a healthy blood count, and enhances overall vitality and well-being, by supporting numerous metabolic processes. Mixed pollen has a diverse composition, naturally containing short-chain proteins, up to 20 amino acids, polyunsaturated fatty acids, minerals, and trace elements like iron, copper, manganese, zinc, and silicic acid (silica). It also provides essential nutrients such as phosphorus, potassium, magnesium, sulfur, and calcium. Additionally, pollen is a rich source of vitamins, including vitamin C, vitamin B1, B2, B6, and B12, as well as biotin, vitamins A, D, and E, folic acid, niacin, and pantothenic acid. It contains antioxidant polyphenols like flavonoids, natural sugars, enzymes, plant hormones, and numerous other beneficial substances.
How to feed:
A measuring spoon is included inside the bottle of Pollen-Energy and is equal to 0.7g. Give one spoonful for every 500g (1.1lb) of your reptile's body weight. In times of stress or illness the dose can be doubled. NEKTON-Pollen-Energy cannot be overdosed.
Storage:
NEKTON-Pollen-Energy should be stored dry and out of sunlight, between 15° and 25° C (59° and 77° F). DO NOT STORE IN THE FRIDGE !!!

Composition:
Pollen in pharmaceutical quality.

Total sugar:
(expressed as sucrose): 39.3%.

Available in a 130g (4.6oz) size.



Manufacturer: Nekton
See all products from Nekton
Visit Manufacturer's website: www.nekton.net
Nekton-Pollen Energy for Herbivorous Reptiles 650gm (1.4Lb)
EAN: 0733309226658
Condition:New