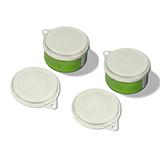 Includes 4 can covers.
The Van Ness Can cover will fit most 5 to 13-oz pet food cans. Dishwasher safe and easy to clean. Eyelet on edge of cover makes them easy to remove from can, as well as securing them in the dishwasher so they don't end up melted on the bottom or impeding a spray arm. Made in the USA.
Includes 4 can covers
Suitable for aquariums 5 to 20 galons
Self priming intake tube
6 foot clear hose
Hose clip keeps drain end in bucket - no more messes!


Manufacturer: Van Ness
See all products from Van Ness
Single Pet Food Can Cover Van Ness Package of 4
UPC: 053176810515
Condition:New