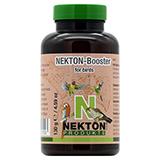 Energy supplement for all birds.
NEKTON-Booster is made for birds that need a quick energy boost during training and competition. It has a balanced mix of active ingredients that help your birds perform at their best. This product is perfect for sport pigeons and falcons.
NEKTON-Booster has branched-chain amino acids that produce maximum energy during flight, and soy protein isolate that is quickly absorbed by the body to support muscle building and regeneration. It is a great source of energy, increases endurance, strength, and activity while preventing fatigue. NEKTON-Booster is also perfect for young birds during breeding to help build their muscles.
This product dissolves easily in water and its active ingredients are quickly absorbed by the bird's body after ingestion.
How to feed:
Small birds - 0.5g, the measuring spoon included inside the bottle is equal to 1 gram.
Medium-sized birds - 1 g
Birds the size of parrots - 1-2 grams per day
Administer the recommended daily dose in drinking water or soft food.
Storage:
NEKTON-Booster should be stored dry and out of sunlight, between 15° and 25° C (59° and 77° F). DO NOT STORE IN THE FRIDGE !!!


Composition:
Dextrose, soy protein isolate (GMO free), magnesium carbonate, methylsulfonylmethane (MSM)

Nutritional additives per kg (2.2lbs):
15,000 mg L-valine, 15,000 mg L-leucine, 14,000 mg L-isoleucine

Available in 3 sizes: 30g (1.06oz), 130g (4.6oz), 530g (18.7oz).



Manufacturer: Nekton
See all products from Nekton
Visit Manufacturer's website: www.nekton.net
Nekton-Booster Supplement for Birds 130g (4.6oz)
UPC: 733309213153
Condition:New